Marine Transverse Thruster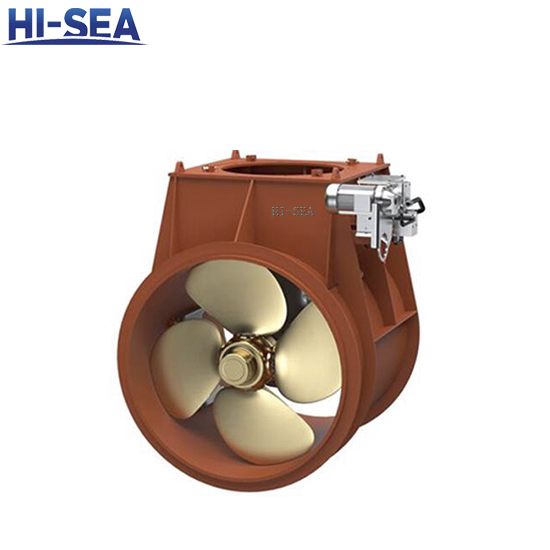 Marine Transverse Thruster
Application
Transverse thruster is suitable for various kinds of vessels. It can be driven by diesel engine, electrical motor and hydraulic motor. According to the pitch of propeller, It can be divided into two kinds:CPP type and FPP type. According to installation way, it can be divided into vertical installation and horizontal installation type.
On the basic of design concept of reliability, endurance, high efficiency and easy maintenance. We can design and manufacture the product according to client's drawing or sample. Any question about our products, please feel free to contact us. We will Give you a quick reply.
Features
1.

Optimized combination of propeller diameter and rotate speed, improving propulsion efficiency(with a smaller diameter in the same thrust force)and the utilization rate of cabin.
2.Skew blade and large disk ratio, reducing vibiration and improving cavitations performance.
3.Gear and bearing with high strength and long longevity, and dipped into oil to get better lubrication and cooling effect,improving the reliability of transverse thruster.
4.Optimized underwater structure, rational construction and high reliability.
5.Good stern shaft sealing, meeting the strict requirements of anti-pollution law of sea and ocean environment.
6.certificates:ABS, BV, DNV-

GL

, NK, LR, CCS, etc.
Technical Parameters
type

Propeller Dia.

Input power max..

Input rpm

Max. thrust

Φ.mm

Kw

Hp

rpm

KN

SCT25-FP

250

20

50

1470

3.5

25

60

1750

4

SCT35-FP

350

36

50

1470

6

39

60

1750

6.5

SCT80-FP

800

185

50

1450

29.6

200

60

1750

32

SCT90-FP/ CP

900

235

50

1470

37.6

250

60

1750

40

SCT110-FP/ CP

1100

350

50

1450

56

380

60

1750

60.8

SCT165-FP/ CP

1650

680

50

1450

108.8

820

60

1750

131

SCT200-FP/ CP

2000

1250

50

1450

200

1150

60

1160

184

960

50

980

153.6

SCT300-FP/ CP

3000

2600

50

730

416

2800

60

880

448

SCT330-FP/ CP

3300

2900

50

730

464

3150

60

880

504
Certificates

Contact with us now