Marine Steel Reel Wire Reel Type C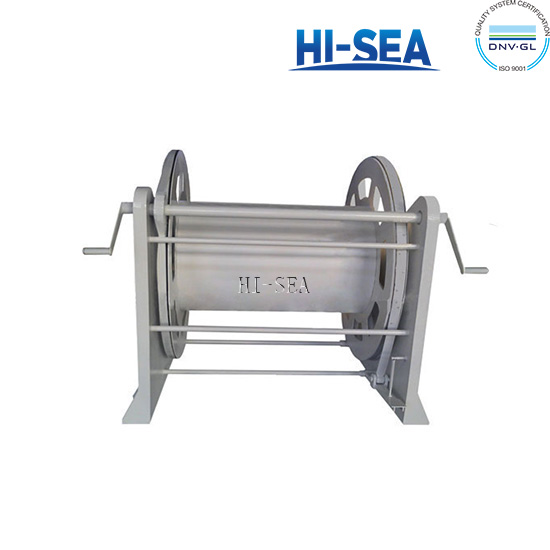 Marine Steel Reel Wire Reel Type C
Application: CB/T 3468-1992 marine steel wire reel is suitable for all ships. However, it canot be used as towing machine or for stranded cables storage.There are four different types for this standard marine ship rope reel including type A, AW, B, and C. Except type AW, all the other three types have crank handle. Please check its drawing and specifications in data sheet.We can also provide customized service as your demands.
If you have any interest, please feel free to contact. We'll reply you soon.
Features of CB/T 3468-1992 Type C
1. Applicable to Store Marine Steel Ropes;
2. Model Type: C56
3. Applicable Steel Wire Max. Diameter: 56mm;
4. Max. Length of Steel Wire: 300m;
5. Bolts Quantity: 14;
6. Material: Steel;
Drawing of Marine Steel Reel Wire Reel Type C:

Model Type

Max. Diameter of Steel Wire

Gear Modulus

Large Gear Tooth Number

Small Gear Tooth Number

Foot Bolts

Weight(kg)

Thread Dia

Quantity

C56

56

10

134

18

M24

14

643.75
Main Parts Specifications
Part Name

Material

Type

Mark

Standard No.

Left/Right Holder

Carbon Steel

Q 235-A/A·F

GB 700 88

Reel

Brake Rod/Band

Reel Shaft

Fine Carbon Steel

25

GB 699 88

Pioion Shaft

Pinion

Fine Carbon Steel

35

GB 699 88

Bearing Sleeve

Aluminium Bronze

QAI 9-21

GB 5233 85

Main Gear

Cast Steel

ZG 230-450/HT200

GB 5676 85
The surface of the part should be smooth and free of defects such as pits, burrs, sharp corners and cracks. After the steel cable reel is made, the moving parts should be coated with lubricating oil, and the other surfaces should be coated with anti-rust paint (painted after installation on the ship).
Inspection Rules
1.Check if the rotation of the cable reel is stable and light.
2.Check that the brakes are reliable and that the gears are meshed evenly.
Contact with us now