Lashing Chain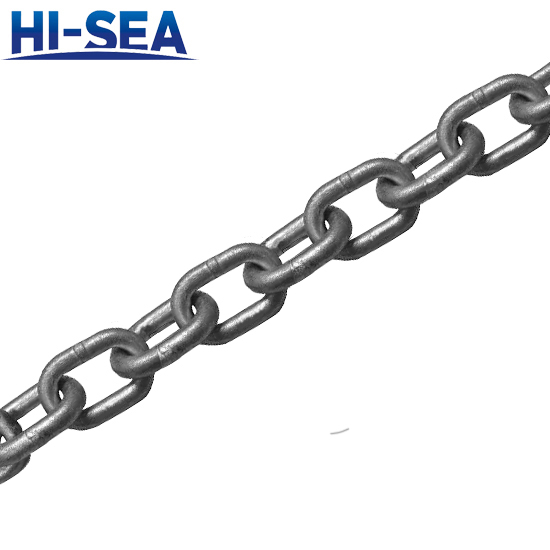 Lashing Chain
1. Product Description
Lashing chain, also known as binding chain, is vital component for safeguard cargoes on container ships, trucks and trains. Lashing chain supplied by Hi-Sea Marine are of high quality and produced by Chinese top chain plants, manufactured by WAFIOS from German. Hi-Sea Marine offers lashing chains and components of different materials, such as low carbon steel, medium carbon steel and alloy, among which the most common are Q235, 25MnV and 20MnV.
If you have any inquiries, please feel free to contact us and get instant quote!
2. Features for Lashing Chain
• Material: low carbon steel, medium carbon steel, alloy
• Finish: bared, black painted, galvanized
• Standard: ASTM, NACM, OSHA,Gr30/43/70/80 or customized
• Packing: drums, pails or customized
• Purpose: lashing components
It is not recommended for overhead lifting.
3. Partial Specifications of Lashing Chains
Chain Diameter

mm

Pitch

mm

Outside Width

mm

Test Load

kn

Breaking Load

kn

Nominal weight

kg/m

6

35

22

22

44

0.64

7

35

24

22

44

0.90

9

53

33

49

98

1.42

10(A)

65

42

63

125

1.75

10(B)

53

35

63

125

1.80

11

64

40

73.5

147

2.18

12

64

42

73.5

147

2.58

13(A)

82

54.6

95

190

3.05

13(B)

80

48

95

190

3.01

14

80

50

100

200

3.55

16

100

67.2

160

320

4.58

19

76

67

198.5

397

7.64

20

95.3

68.6

219.9

439.8

7.41

25

104.8

84.9

343.5

687

12.1
Lashing Chain Options

Grade 30 Chain (Gr 30 Proof Coil)

• Material: low-carbon steel

• Standard: ASTM, NACM

• Finish: self-colored, galvanized, burnished, powder coated, zinc plated

• Application: guard rails, logging, load securement...

• Available in customization

• Not to be used for overhead lifting

Grade 43 Chain (Gr 43 High Test)

• Material: medium carbon steel

• Standard: ASTM A413, NACM

• Finish: self-colored, shot blast, electro-galvanized, powder coated, hot galvanized

• Application: transport tie downs, marine industry...

• Available for customization

• Not to be used for overhead lifting

Grade 70 Chain (Gr 70 Transport )

• Materials: carbon steel

• Surface: chromate finish,black painted, galvanized

• Standard: ASTM and NACM

• Application: trailer tie downs, logging, safety, oil rigging...

• Available for customization

• Not to be used for overhead lifting

Grade 80 Tie Down Chain (Gr 80 Alloy)

• Material: alloy

• Standard: ASTM, NACM, OSHA

• Optional clevis grab hooks on each end

• Available to custom lengths and sizes

• Not to be used for overhead lifting
4. Photo of Lashing Chain
Contact with us now