MARINE & OFFSHORE EQUIPMENT
INDUSTRY EQUIPMENT
STOCK LIST
General type Thermometer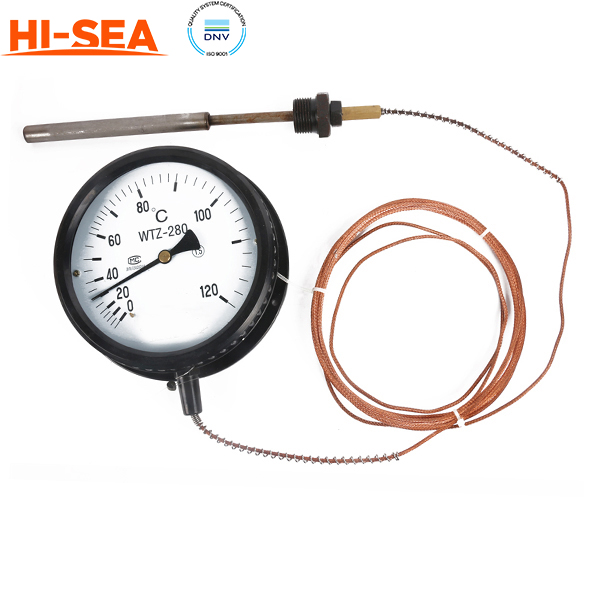 Introduction:
A general type thermometer is a device used to measure temperature. There are several types of general thermometers available, including:
1.Mercury Thermometers: These thermometers consist of a glass tube filled with mercury. As the temperature changes, the mercury expands or contracts, indicating the temperature on a calibrated scale.
2.Digital Thermometers: These thermometers use electronic sensors to measure temperature. They typically display the temperature reading on a digital screen and can provide quick and accurate measurements.
3.Infrared Thermometers: Also known as non-contact thermometers, these devices measure temperature without making physical contact with the object or person being measured. They detect infrared radiation emitted by the object and convert it into temperature readings.
4.Thermocouple Thermometers: Thermocouples consist of two different metals joined together. When a temperature gradient is applied to the junction, it generates a voltage that corresponds to the temperature. Thermocouple thermometers use this principle to measure temperature accurately.
5.Resistance Temperature Detectors (RTDs): RTDs are temperature sensors that use the change in electrical resistance of certain metals, such as platinum, with temperature. They provide highly accurate and stable temperature measurements.
6.Thermistor Thermometers: Thermistors are temperature-sensitive resistors made of semiconductor materials. They change their resistance with temperature variations, allowing for temperature measurement.
The choice of thermometer depends on the specific application, accuracy requirements, and desired features. It's important to select the appropriate thermometer and follow the manufacturer's instructions for accurate temperature measurement.
Dimensions Soecification:
| | | | |
| --- | --- | --- | --- |
| Dial diameter | D1 | A | D |
| Φ100 | Φ117 | Φ120 | Φ130 |
| Φ150 | Φ156 | Φ160 | Φ172 |
Technical Parameters
Model

Measuring range

accuracy

Bulb Dimension

Mounting Thread

Dial diameter

Case Material

WTZ-280

−20~60 0~100
0~120 60~160

1.5

Φ15×150
Φ15×200

M27×G¾

Φ100
Φ150

Bakelite

Stainless Steel

WTQ-280

−40~60 0~200
−60~40 0~300

2.5

Φ22×300

M33×2G1"

Φ150

WTZ-288

−20~60 0~100
0~120 60~160

1.5

Φ15×150
Φ15×200

M27×G¾


Bakelite

WTQ-288

−20~60 02100
−60~40 0~300

2.5

Φ22×300

M33×2G1"
Thermometer drawing: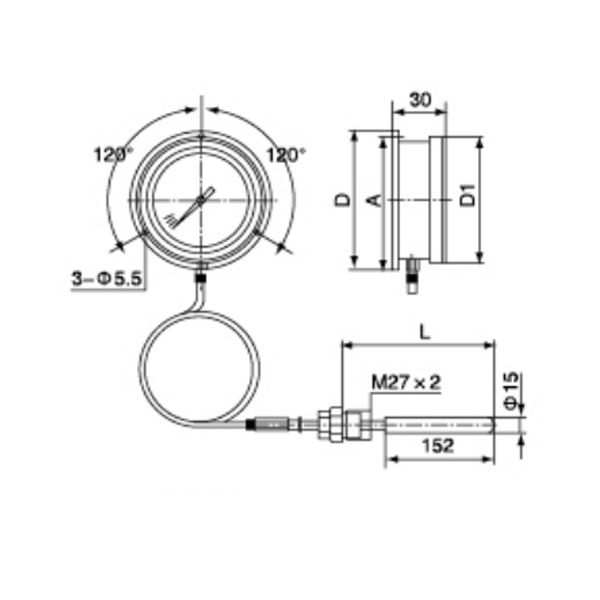 Related products for "General type Thermometer"
Contact with us now