Delta High Holding Power Anchor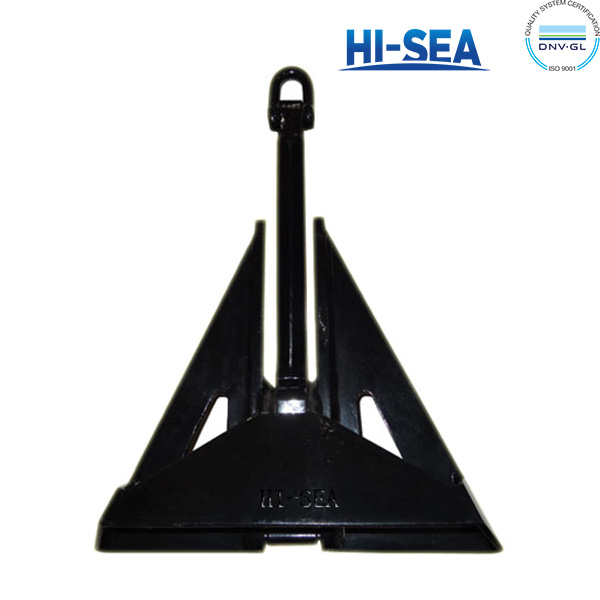 Delta High Holding Power Anchor
Application:
Delta High Holding Power Anchor, also called Flipper Delta Anchor, Welded Delta Anchor, Steel Plate Anchor, Steel Plate Welded Delta anchor, Delta Offshore Anchor, etc. Delta anchor is mainly used in offshore industry. It has an open construction for smooth penetration in different kinds of soil and no rotation, which means no decrease of holding capacity and no dragging of the anchor.
Features:
Type: Delta High Holding Power Anchor
Material: Stainless Steel,Aluminum,Alloy Steel ,ZG200-400C
Nominal Weight: 300KG-27000KG
Finish: Black bitumen paint, anti-rusting paint or customized
Packing: Carton or Wooden Case
Certificates: CCS,ABS,BV,LR,NK,RINA,etc.
Drawing of HHP Delta Anchor: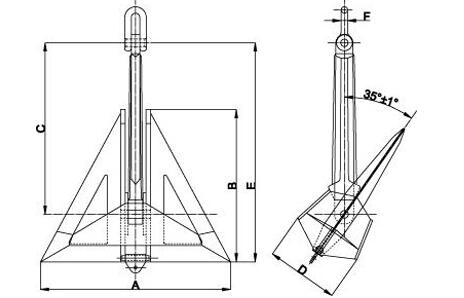 Nominal Weight (kg)

Dimensions (mm)

A

B

C

D

E

F

300

1,200

960

1,080

457

1,380

Φ45

500

1,500

1,200

1,350

571

1,725

Φ50

1,000

1,875

1,500

1,686

714

2,155

Φ62

1,080

1,915

1,530

1,686

722

2,200

Φ62

2,000

2,363

1,890

2,124

900

2,715

Φ74

3,000

2,700

2,160

2,430

1,028

3,105

Φ90

4,000

2,975

2,380

2,676

1,133

3,420

Φ100

5,000

3,250

2,600

2,922

1,238

3,735

Φ110

7,000

3,575

2,860

3,216

1,360

4,110

Φ117

9,000

3,950

3,160

3,555

1,504

4,543

Φ135

10,000

4,100

3,280

3,690

1,561

4,715

Φ140

12,000

4,490

3,575

4,030

1,695

5,320

Φ145

13,500

4,670

3,720

4,195

1,765

5,535

Φ150

15,000

4,845

3,875

4,355

1,830

5,735

Φ150

18,000

5,140

4,080

4,610

1,940

6,080

Φ160

20,000

5,330

4,260

4,790

2,010

6,310

Φ170

22,500

5,490

4,360

4,905

2,060

6,470

Φ180

25,000

5,740

4,590

5,106

2,165

6,795

Φ180

27,500

5,980

4,785

5,385

2,245

7,095

Φ180
Marine Anchor in Factory: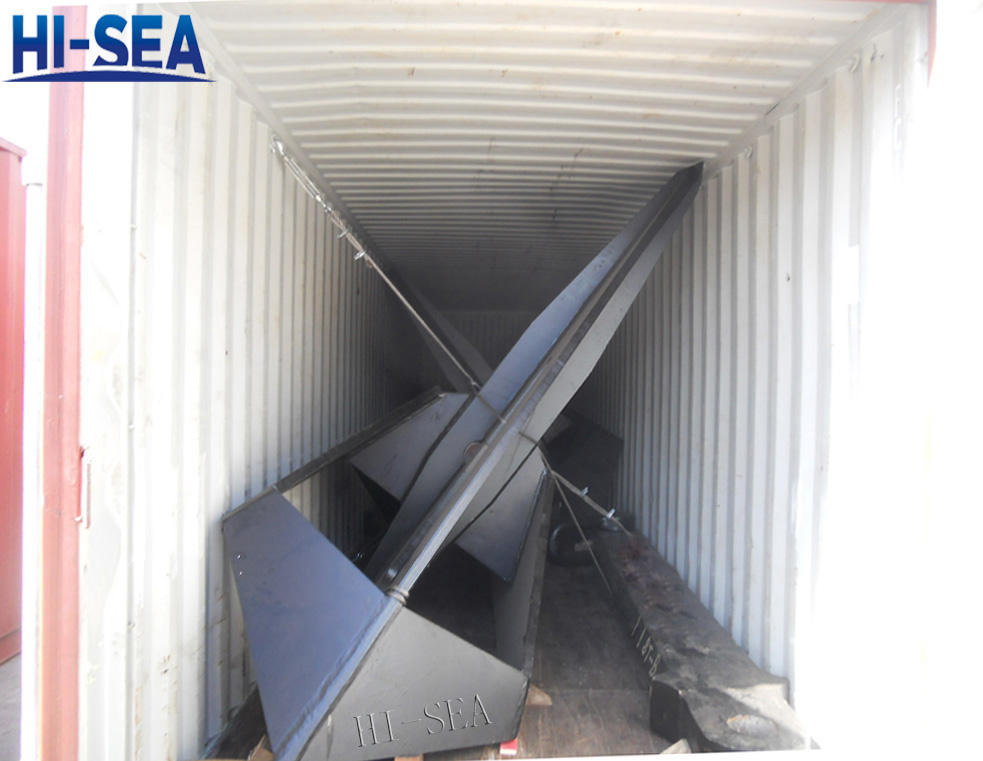 Contact with us now