Chemicial Tanker High Velocity Relief Valve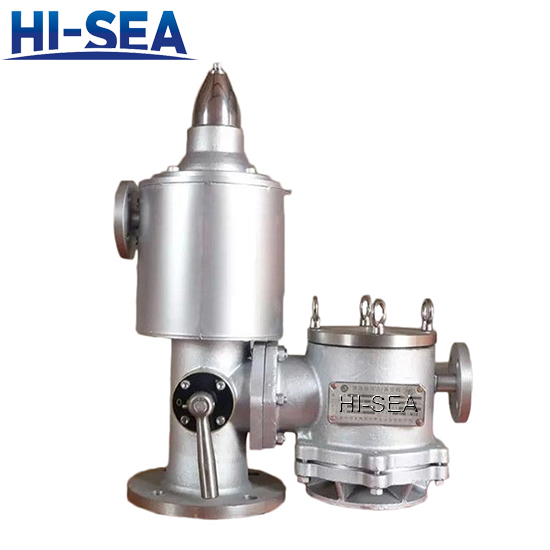 Chemicial Tanker High Velocity Relief Valve
1. Application

Chemicial Tanker High Velocity Relief Valve allows your oil tanker and chemical tanker to breathe in and out within specified vacuum and pressure levels, relieving both pressure and vacuum build ups with superior sealing performance.
2. Material
valve body: cast
valve seat: 0Cr18Ni9 SUS304

flame screen: 00Cr17Ni14Mo2 SUS316L
remarks: the materials mentioned before are basic materials, ship-owners can choose better materials, such as SUS304, SUS304L, SUS316L.
3. Nominal Size & Pressure

diameter:DN50—DN250
pressure: (1) oil tanker:-3.5Kpa—14Kpa; (2) chemicial tanker: -3.5Kpa—20Kpa.
4. Features

(1). Adjustable outside opening and closing pressure without exhausting vapor gas.
(2). Full lifting and high flow capacity.

(3). Clearly visible vacuum disc operation.

5. Specification(mm)
| | | | | | | | |
| --- | --- | --- | --- | --- | --- | --- | --- |
| | DN | D2 | D1 | D | L | H | Flange Hole |
| 1 | 50 | 90 | 110 | 140 | 255 | 485 | 4xφ14 |
| 2 | 65 | 110 | 130 | 160 | 255 | 485 | 4xφ14 |
| 3 | 80 | 128 | 150 | 190 | 285 | 535 | 4xφ18 |
| 4 | 100 | 148 | 170 | 210 | 285 | 565 | 4xφ18 |
| 5 | 125 | 178 | 200 | 240 | 380 | 665 | 8xφ18 |
| 6 | 150 | 202 | 225 | 265 | 385 | 710 | 8xφ18 |
| 7 | 200 | 268 | 295 | 340 | 455 | 850 | 8xφ18 |
| 8 | 250 | 320 | 350 | 395 | 460 | 860 | 12xφ22 |
6. IACS Certificate:
ABS, CCS, BV, LR, RINA

7. Chemicial Tanker High Velocity Relief Valve in factory: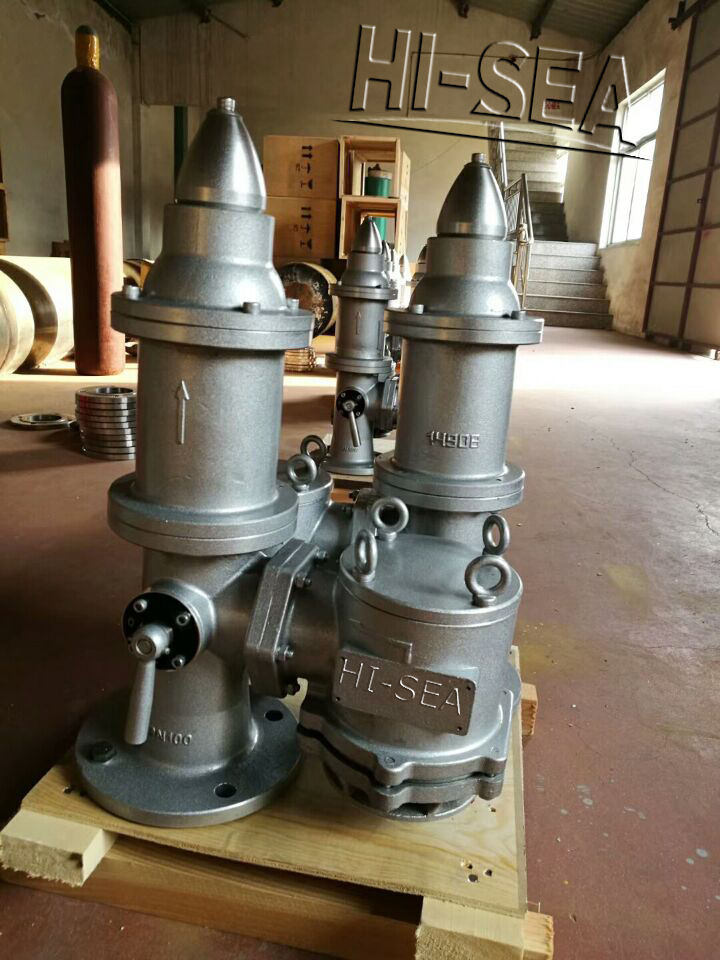 Contact with us now