CAW Marine Indirect Evaporative Cooling Air Condition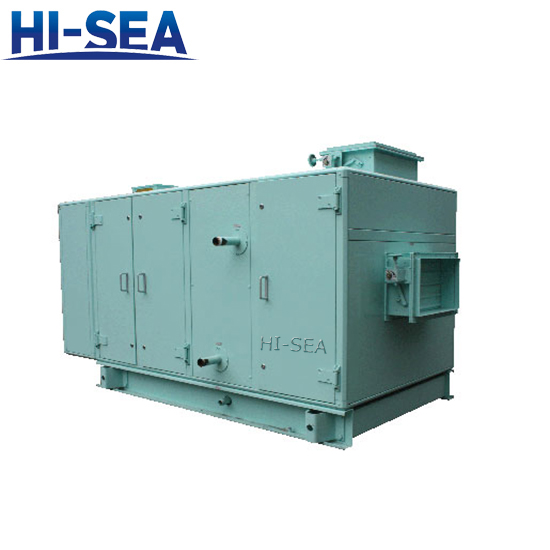 CAW Marine Indirect Evaporative Cooling Air Condition
Overview
1. CAW marine air condition is one of the air conditioning systems that shall be used together with water chilling unit. It is featured by compact structure , low vibration, low noise and easy installation.
2. CAW marine air condition mainly consists of air filter, air heat exchange,fan, motor and electrical control cabinet, etc. In addition, flow control valve station can be provided in full sets according to the requirement of user.
Installation in Shipyard
1. Pay attention not to damage any component of the tube system and the unit during lifting. The body is made of thin steel plates, hangers shall be used for lifting. Wooden plate shall be used as protection pad for wall face in order to protect the body from damage.
2. See General Drawing or Overall Dimension Drawing for the dimension of bolt hole in the base of water chilling unit.
3. Shock insulation measures shall be considered at the base of water chilling unit.
3. Crelative valves and thermometer necessary for water inlet and outlet pipes of condenser shall be installed by shipyard, while water pressure gauge and water pressure controller have been properly installed by the manufacturer.
4. Connect feed cable conductor to the power line terminals in the electrical control cabinet, and lay the alarm wire, etc.
Main Technical Parameters
CAW-23
CAW-35
CAW-47
CAW-58
CAW-70
CAW-82
CAW-93
CAW-105
Cooling Capacity
Kw
23
35
47
58
70
82
93
105
Heating Capacity
Kw
37
40
54
70
82
93
105
116
Regenerating Medium
7

℃

Cooling Fresh Water

Heating Medium
≥45

℃

Heating Fresh Water/0.3 ~ 0.4Mpa Water

Heating Steam
Consumption
kg/h
60
80
99
120
140
159
182
198
Humidifying Steam
Consumption
kg/h
9
12
16
19
22
25
28
30
Air Flow
m

3

/h

3200
3700
4200
5000
6200
7200
8200
9000
Fan Motor Power
Kw
2.2
3.2
5.5
5.5
7.5
11
11
15
External Static
Pressure
Pa
450
900
900
1050
1200
1500
1570
1500
Cooling(Heating)
Water Flow
m

3

/h

4
6
8
10
12
14
16
18
Cooling Water
Press.Drop
KPa
26
30
35
41
45
50
56
60
Power Supply
AC380V 3Ph 50Hz /AC440V 3Ph 60Hz
Weight
kg
~700
~800
~900
~950
~1000
~1050
~1150
~1200
CAW-116
CAW-151
CAW-175
CAW-186
CAW-210
CAW-232
CAW-250
CAW-291
Cooling Capacity
Kw
116
151
175
186
210
232
250
291
Heating Capacity
Kw
134
167
186
215
232
250
291
335
Regenerating Medium
7

℃

Cooling Fresh Water

Heating Medium
≥45

℃

Heating Fresh Water/0.3 ~ 0.4Mpa Water

Heating Steam
Consumption
kg/h
228
284
317
370
400
430
500
580
Humidifying Steam
Consumption
kg/h
35
44
49
64
68
80
88
95
Air Flow
m

3

/h

10500
13100
15100
16000
18000
20000
22000
25000
Fan Motor Power
Kw
15
15
22.5
30
37
37
45
45
External Static
Pressure
Pa
1500
1600
1800
1800
1800
1800
1900
1900
Cooling(Heating)
Water Flow
m

3

/h

20
26
30
32
38
40
43
50
Cooling Water
Press.Drop
KPa
66
82
89
100
110
120
130
140
Power Supply
AC380V 3Ph 50Hz /AC440V 3Ph 60Hz
Weight
kg
~1450
~1700
~1800
~2500
~2700
~2900
~3100
~3200
Contact with us now