AC-14 HHP Anchor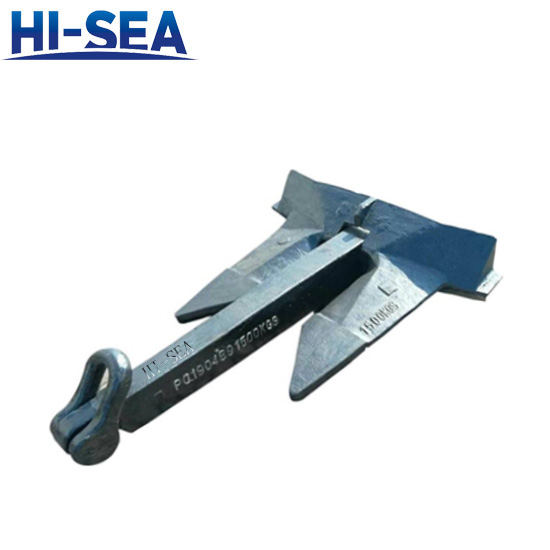 AC-14 HHP Anchor
Application: AC-14 HHP Anchor, also called AC-14 type anchor, AC-14 Stockless Anchor, AC-14 HHP Stockless anchor, AC-14 High Holding Power Anchor, etc. AC-14 HHP anchor is a kind of stockless anchor with high holding power. We can manufacture this anchor with weight range from 180kg to 30,000kgs as clients' requests. It is one of most often used anchors like Hall Anchor, Pool Anchor, Speck Anchor, etc. Nowadays, it is used extensively in the marine and offshore industry because of great versatility coupled with higher efficiency (weight/holding power) than its predecessor the stockless anchor, allowing the user to decrease the weight needed. It can be applied in a variety of sea bottom conditions.
Features:
Type: AC-14 HHP Anchor
Material: Casting Steel
Weight: 75kg-30000kg
Finish: Black bitumen paint, anti-rusting paint or customized
Packing: Carton or Wooden Case
Certificates: CCS,ABS,BV,LR,NK,RINA,etc.
Drawing of AC-14 HHP Anchor: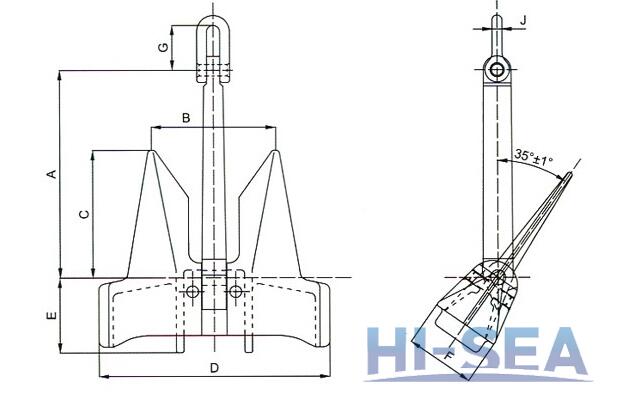 NOMINAL

WEIGHT(KG)

SIZE(mm)

A

B

C

D

E

F

G

J

75

550

326

350

606

188

185

115

24

495

1025

610

650

1135

350

348

235

50

1080

1350

805

855

1495

461

455

280

62

2100

1686

1005

1070

1865

575

570

380

82

3040

1896

1130

1204

2100

646

640

410

90

4840

2225

1330

1410

2465

760

755

480

110

5175

2275

1358

1443

2520

777

770

480

110

6000

2390

1426

1515

2646

816

810

500

110

7875

2610

1558

1655

2890

891

884

600

130

8775

2707

1614

1715

2996

924

916

630

135

9675

2805

1674

1778

3104

957

948

640

140

10125

2850

1700

1806

3152

972

960

640

140

11025

2930

1750

1859

3247

1001

990

660

145

12075

3010

1800

1906

3343

1027

1020

700

155

13350

3132

1870

1986

3470

1069

1060

700

155

14100

3178

1896

2015

3520

1084

1076

730

160

15400

3272

1954

2075

3626

1117

1108

770

170

16900

3350

2000

2126

3720

1144

1144

770

170

17800

3440

2050

2180

3806

1173

1162

800

180

18800

3500

2088

2220

3875

1193

1185

800

180

20000

3573

2132

2265

3956

1220

1210

820

185

25000

4100

2437

2600

4577

1399

1375

880

200

30000

4358

2888

2765

4663

1484

1380

940

210
Marine Anchor in Factory: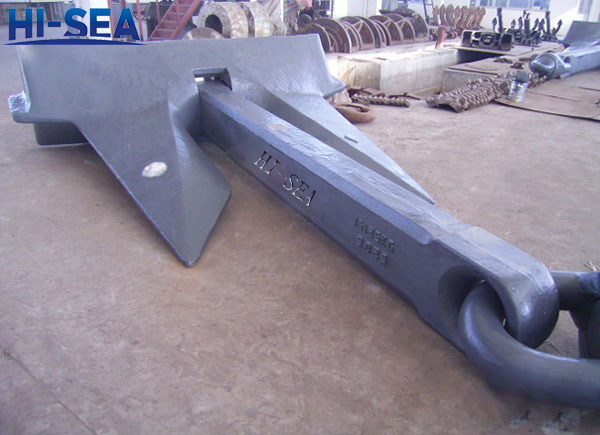 IACS Certificates:

Contact with us now