MARINE & OFFSHORE EQUIPMENT
INDUSTRY EQUIPMENT
STOCK LIST
Non-Return Valve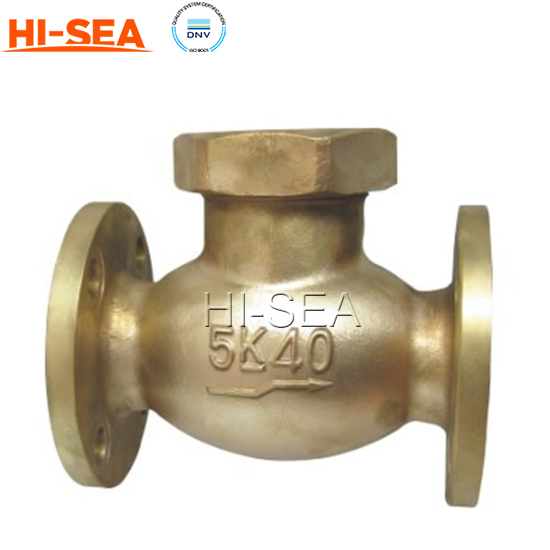 Non-Return Valve
Application
The valve is used for shipbuilding, ship repair and oil platform with high quality.
Configuration Options
Name of Parts

Material

Advantages/Disadvantages

Valve Body

Bronze

Pressure resistance, wear resistance, and toughness are higher than those of brass. Bronze has a certain delay in the rusting time of the valve. more expensive than brass

Brass

Brass is easy to cast and press work. Has good mechanical properties and corrosion resistance, compared with other copper alloys, low price, beautiful color,

Valve Bonnet

Bronze

Good castability, wear and corrosion resistance and stable chemical properties

Brass

It has good mechanical properties, good machinability, can withstand hot and cold pressure processing, and is used for various structural parts in cutting and stamping processing.

Valve Disc

Bronze

Bronze has excellent low temperature resistance, the price is a little more expensive than brass.

Brass

Good mechanical properties, good plasticity in hot state, good plasticity in cold state, good machinability, easy fiber welding and welding, corrosion resistance, but easy to produce corrosion cracking, and cheap

Gasket

Non-asbestos

It has very good water tightness, air tightness, and fuel tightness, good mechanical properties, oil resistance, temperature resistance, and pressure resistance.
Specific Difference Between Us and Other Suppliers
Comparison

Product Picture of other low quality supplier




Product Picture of our factory




Other low quality supplier

Consequence

Our Factory

Result

Jerry-build, the wall thickness of the valve body is not processed according to the standard

Uneven thickness, the valve body is easy to be damaged, and the service life is short.

Strictly in accordance with the standard processing, uniform thickness

Use with confidence, meet user needs, and the product has a long service life

In order to reduce cost, bronze valve disc is replaced with cast iron valve core,

Cast iron valve disc is easy to corrode and break

Strictly select materials according to user requirements

High safety factor and reasonable structure

Manufacturers save costs and purchase unqualified standard bolts

The valve leaves a safety hazard, which is easy to cause an accident

According to customer requirements, use standard bolts.

Use it with confidence, reduce safety hazards and reduce the accident rate.

Use ordinary round steel stem instead of stainless steel stem

The performance of the substitute material is unstable, the ordinary round steel is processed, the valve stem is thin and there is no heat treatment, which leads to the deterioration of the valve quality.

Made of stainless steel, the diameter of the valve stem meets the design requirements, and it has undergone high temperature quenching and tempering heat treatment.

High safety factor, reasonable structure, long product life

Use iron, carbon steel to make valves and repair scrap valves as brand new ones.

Such products generally have large errors in hardness and accuracy, which are prone to accidents.

Manufacture brand new valves in strict accordance with customer material requirements, never shoddy.

Meet the hardness and precision requirements of standard valves,
List
1) JIS F7356 Check Valve
2) JIS F7358 Check Valve
3) JIS F7359 Check Valve
4) JIS F7371 Check Valve
5) JIS F7372 Check Valve
6) JIS F7373 Check Valve
7) JIS F7415 Check Valve
8) JIS F7416 Angle Check Valve
9) JIS F7417 Check Valve
10) JIS F7418 Angle Check Valve
Specification
| | |
| --- | --- |
| Product Pressure | 5K, 10K,20K,30K |
| Standard | JIS |
| Medium | Air, gas, oil,etc. |
| Nominal Diameter | 15-40, 50-400 |
| Brand name | Customer required |
| Material | Bronze, cast iron |
| Application | Shipbuilding,ship repair |
| OEM service | Available |
| Certificate | ABS, BV, CCS, LR, RINA |
IACS Certificate: BV, ABS, LR, CCS, RINA.

Contact with us now