Marine Fan Coil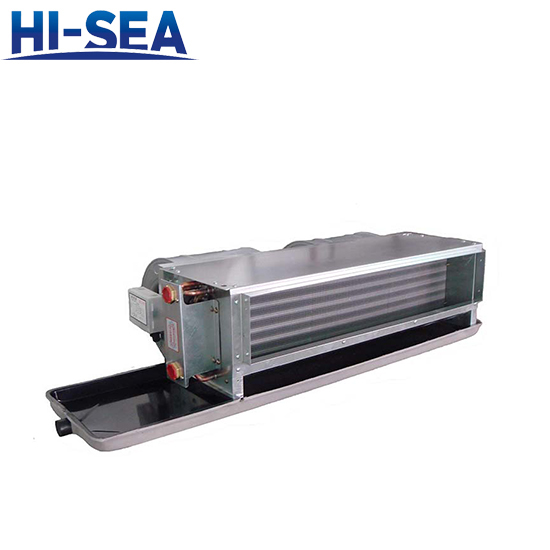 Marine Fan Coil
Overview
The fan coil is the complement product for marine air-conditioning system. It has the characteristics of compact structure, little vibration, low noise and easy installation.
CFP-LM vertical surface fan coil and CFP-WA horizontal concealed fan coil is mainly composed of air filter, air heat-exchange low noise centrifugal fan, knob-type speed regulation switch and electric control box.
Installation in Shipyard
1. Pay attention not to damage any component of the tube system and the unit during lifting. The body is made of thin steel plates, hangers shall be used for lifting. Wooden plate shall be used as protection pad for wall face in order to protect the body from damage.
2. See General Drawing or Overall Dimension Drawing for the dimension of bolt hole in the base of water chilling unit.
3. Shock insulation measures shall be considered at the base of water chilling unit.
4. Crelative valves and thermometer necessary for water inlet and outlet pipes of condenser shall be installed by shipyard, while water pressure gauge and water pressure controller have been properly installed by the manufacturer.
5. Connect feed cable conductor to the power line terminals in the electrical control cabinet, and lay the alarm wire, etc.
Main Technical Parameter
CFP-2
CFP-4
CFP-6
CFP-8
CFP-12
CFP-15
CFP-23
CFP-28
CFP-35
Cooling Capacity
kw
2
4
6
8
12
15
23
28
35
Heating Capacity
kw
3
5
7
9
14
17
26
32
40
Namely Air Flow
m

3

/h

360
720
1000
1440
2160
2700
3600
5000
5400
Cooling medium
7

℃

chiled water

Heating medium
≥45

℃

hot water

Power supply
AC220V 13zφ 50Hz/AC 220V 1φ 60Hz
Air Cooler
(heater)
Type
copper tube AI fin
Cold/hot water
inlet temp

℃

7/45
Water flow
m

3

/h

0.34
0.68
1.03
1.38
2.06
2.58
4
4.81
6
Water Pressure
loss
kPa
20
30
35
40
40
45
45
50
55
Fan
Type
Motor power
kW
0.04
0.04
0.04
0.09
0.09
2x0.09
2x0.25
2x0.45
2x0.45
Noise
dB(A)
≤42
≤46
≤49
≤52
≤54
≤57
≤64
≤69
≤69
Contact with us now