Marine Air Compressor And Receiver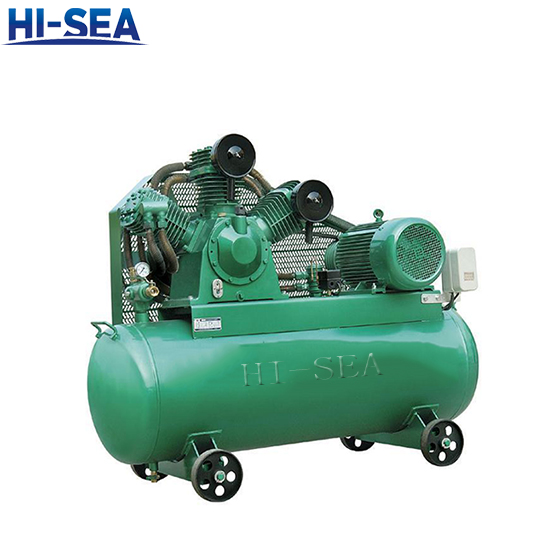 Marine Air Compressor And Receiver
Product Description
This marine medium pressure air-cooled air compressor is mainly suitable for starting the main engine of the ships and all kinds of marine diesel engine,it has features of low noise,high efficiency and smooth operation.the model is CWF-60/30,the type of this marine air compressor is W-type,horizontal,air-cooled and 2 stage compressiom piston type,the displacement capacity is 60 m3/h.The specified discharge pressure is 3.0 MPa.
This marine air receiver used to store compressed air,which supply start-up or air whistle for main engine and auxiliary engine. B-type horizontal model is made up of steel body, seal cover, manhole, inlet/outlet valve, safety valve, pressure gauge and pressure gauge valve, drain valve, installation seat etc.
Product Features
1.Smooth operation
2.High efficiency and low noise
3.Especially suitable for starting the main engine of ships and all kinds of marine diesel engine
These functions as follow are available according to clients' requests
1.The two main machines each control function
2.The temperature control function
3.The inlet pressure controller
4.The exhaust outlet high pressure hose
Specification
Marine Air Compressor And Air Receiver
Air Compressor Model
Displacement
Specified Pressure
Rotating Speed
Motor Power
m3/h
MPa
r/min
kW
HP
CWF-60/30
60
1.0
3.0
15
20
Air Receiver Model
Capacity
Design Pressure
Work Pressure
Design Temperature
Internal Diameter
m³/h
mpa
Mpa
℃
mm
A0.63-1.0
0.63
1.1
1
100℃
790
B0.8-1.0
0.8
1.1
1
100℃
700
B1.0-1.0
1
1.1
1
100℃
800
Note:If you have any requirement,please contact with us.
Certificates
ABS,CCS,BV,DNV-GL,RINA,etc.They can be offered along with marine air compressor and receiver

Contact with us now