Maine Light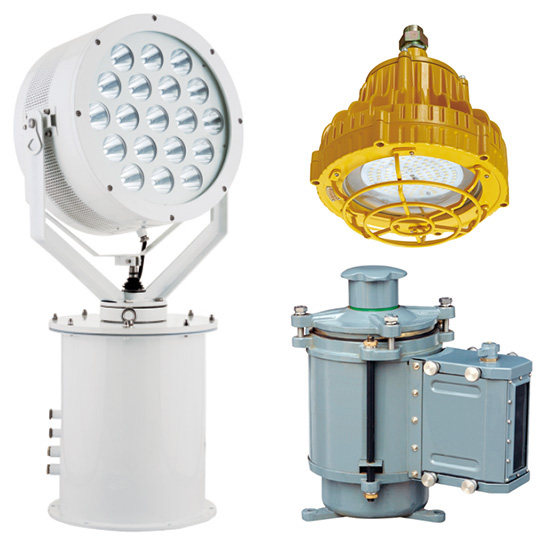 Marine Light
Application:

The marine light suitable used as the signal liaison and illuminate for the ship. Widely used in different place on the ship, like oven cabin, dry cabin, tunnel, pipeline and weather deck etc. Now we produced the marine light in different material and installation way based on the usage place, also supply various illuminate as per requirements of clients, the LED, fluorescent light, incandescent light and others.
The light approval by the matched rules for different types of the light:
Signal light: Meet the international regulations for preventings collision at sea 1972, grade entry norms for steel ships, standard IEC60598-1-2008 and marine electric signal light GB/T 3028-1995.
Fluorescent light: Meet the standard CB/T 3857-1999.
Spot light: Conform to international IEC NORM and national standard GB7007.7-2005.
certificate for marine light: CCS, CE
Main products:
| | |
| --- | --- |
| Item | Detail products |
| Marine signal light | Double-deck signal light, Single-deck signal light, Navigation signal light, Head light, Anchor light, Emergency light, Flagpole light, Morse signal light, Daylight signal light, Rotating warning light, Chart light |
| Marine fluorescent light | Fluorescent pendant light, Fluorescent ceiling light, Fluorescent Corner light, Stainless steel fluorescent grid light, Fluorescent mirror light, Fluorescent bedside light, Fluorescent indicator light |
| Incandescent light | Incandescent pendant light, Work light, Wall light, Reading light, Portable light, High-power pendant light |
| Spot light | signal search light, spot light, search light, flood light, LED flood light, LED search light |
| Explosion-proof light | Explosion-proof portable light, Incandescent explosion-proof light, Explosion-proof light, Explosion-proof spot light, Explosion-proof fluorescent light |
| Electric connection | Marine watertight plug, Marine socket, Marine socket with switch, Marine watertight junction box, IEC marine watertight plug, IEC marine watertight switch with socket, Marine nylon switch, Marine nylon junction box, Marine brass switch, Marine brass plug and socket, socket box of cargo light |
Contact with us now