Magnesium Alloy Sacrificial Anode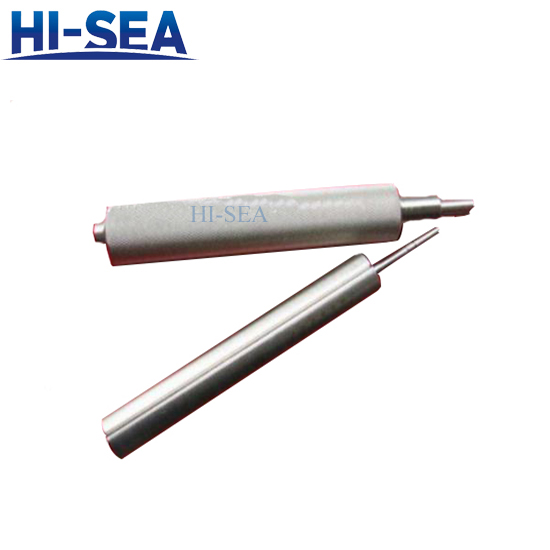 Magnesium Alloy Sacrificial Anode
1. Description
The current efficiency of the magnesium anode is about 50%. When the salt content in the soil or water is low, the current output is small, and the corrosion is relatively large. When the soil resistivity is high, the anode output current is small, and the anode surface is prone to passivation. Increase the grounding resistance to further reduce the anode output current.
2. Attention
(1). Under the influence of salt water or salt water, when using a magnesium sacrificial anode, the temperature should preferably not exceed 30 degrees Celsius.

(2). In freshwater environments, the temperature should not exceed 45 degrees Celsius to use magnesium sacrificial anodes.
(3). Magnesium sacrificial anodes are not suitable for use in seawater. They are too fast in seawater and have a short life.
(4). The use rate of magnesium sacrificial anode is 85 percent, so when the weight of the anode is 15%, it can be assumed that the anode has failed.
(5). If you have any questions, please contact our company in time.
3. Chemical Ingredient
| | | |
| --- | --- | --- |
| Element | standard type | Magnesium manganese type |
| Al | 5.3~6.7 | ≤0.010 |
| Zn | 2.5~3.5 | — |
| Mn | 0.15~0.60 | 0.50~1.30 |
| Fe | ≤0.005 | ≤0.03 |
| Ni | ≤0.003 | ≤0.001 |
| Cu | ≤0.020 | ≤0.020 |
| Si | ≤0.10 | — |
| Mg | margin | margin |
| | | | |
| --- | --- | --- | --- |
| Performance | Standard Type | Magnesium manganes | Remarks |
| Density g/cm³ | 1.77 | 1.74 | - |
| Open circuit potential V | -1.55 | -1.70 | - |
| Theoretical capacitance A.h/kg | 2210 | 2200 | - |
| Theoretical current efficiency % | 55 | 50 | In seawater, under 3 mA/cm2 |
| Actual current efficiency % | ≥50 | 40 | In the soil, 0.03 mA/cm2 |
| Actual capacity A.h/kg | 1110 | 880 | - |
Contact with us now