JIS F7305 Marine Cast Iron Globe Valve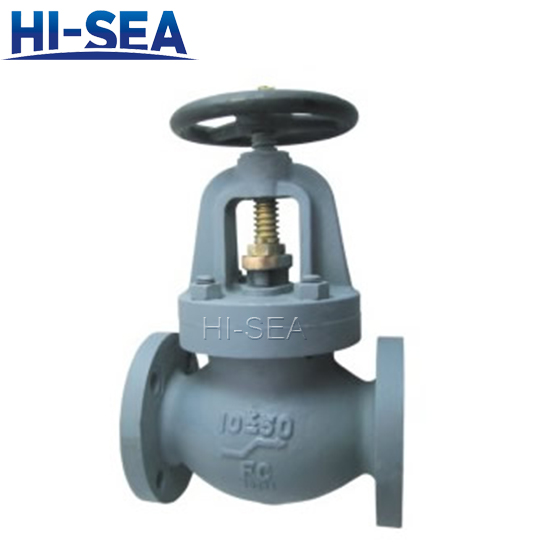 JIS F7305 Marine Cast Iron Globe Valve
1. Application
It is widely used in ship building and in ship repairing in dock.
2. Material
body: cast iron
seat: bronze
disc: bronze
stem: brass
3. Nominal Diameter & Pressure
diameter: DN50~DN400
pressure: 5K
4. Features
(1). OEM, ODM service is acceptable. Our factory can produce according to customer's special requirements.
(2). Our products will be inspected by all production procedures.
(3). CCS, BV, ABS, LR certificate can be offered.
5. Main Size List
| | | | | | | | | | |
| --- | --- | --- | --- | --- | --- | --- | --- | --- | --- |
| IMPA Code | Model | L | D | C | No. | h | t | H | D2 |
| 750201 | F7305 5K050 | 210 | 130 | 105 | 4 | 15 | 16 | 270 | 160 |
| 750202 | F7305 5K065 | 250 | 155 | 130 | 4 | 15 | 18 | 300 | 180 |
| 750203 | F7305 5K080 | 280 | 180 | 145 | 4 | 19 | 18 | 310 | 180 |
| 750204 | F7305 5K100 | 340 | 200 | 165 | 8 | 19 | 20 | 360 | 224 |
| 750205 | F7305 5K125 | 410 | 235 | 200 | 8 | 19 | 20 | 390 | 250 |
| 750206 | F7305 5K150 | 480 | 265 | 230 | 8 | 19 | 22 | 445 | 280 |
| 750207 | F7305 5K200 | 570 | 320 | 280 | 8 | 23 | 24 | 530 | 315 |
| 750208 | F7305 5K250 | 740 | 385 | 345 | 12 | 23 | 26 | 650 | 355 |
| 750209 | F7305 5K300 | 840 | 430 | 390 | 12 | 23 | 28 | 740 | 400 |
| 750210 | F7305 5K350 | 940 | 480 | 430 | 12 | 25 | 30 | 840 | 500 |
| 750211 | F7305 5K400 | 1050 | 540 | 495 | 16 | 25 | 30 | 940 | 630 |
6. IACS Certificate: CCS,ABS,BV,LR,RINA

Contact with us now