JIS F2031 Pawl Type Chain Cable Stopper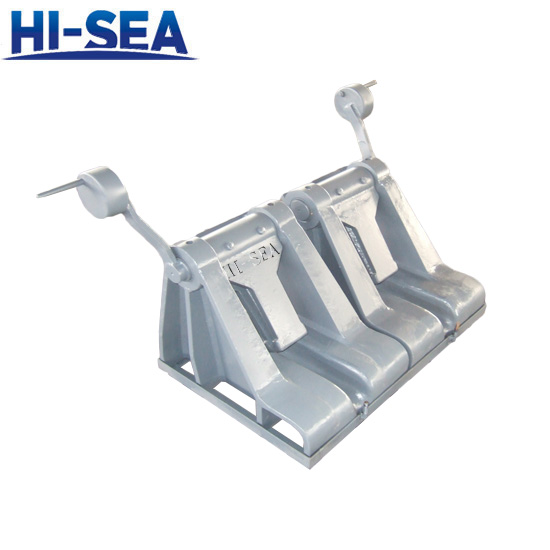 JIS F2031 Pawl Type Chain Cable Stopper
Application: JIS F2031 Pawl Type Chain Cable Stopper is cast steel chain stopper applicable to Grade 3 Anchor Chain. Pawl type chain stopper is disposed between the connecting tube and anchor windlass to clamp the anchor chains and to prevent the chain slipping out. Anchor chain stopper transmits the pull strength from chain to hull in a way to reduce the working load on windlass. JIS F2031 pawl type chain stopper is strictly produced complying with the shipbuilding standard JIS F2031.
Other types of chain stoppers are available according to customer's special requirements.
For more information, please feel free to contact us.
Features of JIS F2031 Pawl Type Chain Cable Stopper
1. Model Type: pawl type chain cable stopper;
2. Material: cast steel;
3. Applicable to Grade 3 anchor chain (diameter 58mm to 122mm);
4. Weight: 495 to 3660kg;
5. With lubricating oil on friction surface and other part painted with bitumen paint;
6. Red, black, gray or other color coating;
7. Withstand 80% of chain cable's minimum breaking load;
8. No defects on surface to influence the strength of chain stopper;
9. Competitive price, prompt delivery and excellent service;
10. Certificate: ABS, CCS, BV, NK, LR and etc.;
11. Can be customized.
Drawing of JIS F2031 Pawl Type Chain Cable Stopper: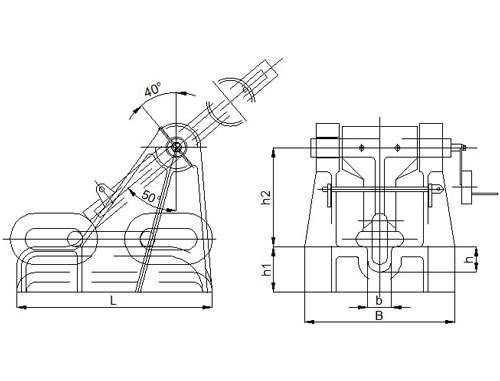 Nominal Chain Diameter

Dimensions(mm)

Weight(kg)

B

b

L

h

h1

h2

58~60

600

95

780

102

182

394

495

62~64

630

101

835

109

191

421

582

66~68

660

107

885

116

200

446

701

70~73

700

115

950

125

212

478

846

76~78

750

123

1015

133

222

511

1014

81~84

800

134

1095

143

235

550

1268

87~90

850

143

1170

153

248

588

1798

92~95

900

151

1235

162

260

620

1769

97~102

950

161

1350

175

276

665

2277

105~107

1000

170

1400

185

289

703

2664

111~114

1050

180

1480

195

302

742

6054

117~122

1120

191

1585

207

318

790

3660
Mooring chain stopper in factory: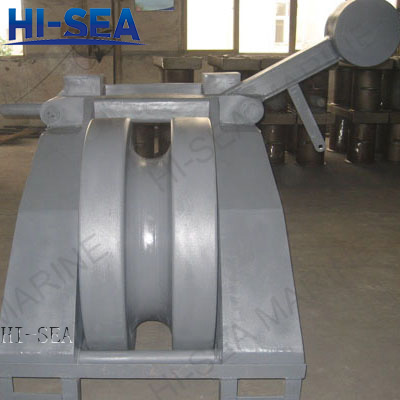 IACS Certificates:

Contact with us now