High Pressure Marine Air Compressor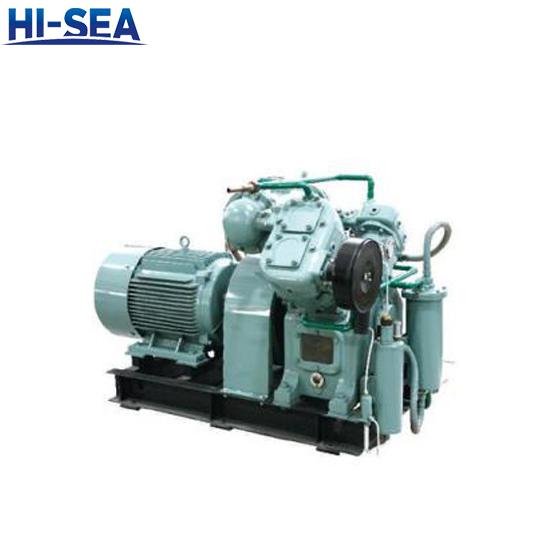 High Pressure Marine Air Compressor
Product Description
Marine vertical high pressure water cooled air compressor is specially fit for ships.The type is single-row,vertical,water-cooled,three-stage piston and belt drive type.It has characteristics of a compact structure,small size,light weight,high pressure and easy operation,etc.It can be converted into a automatic control unit form according to the requirements of customers.The displacement capacity of this marine air compressor is 0.27-0.43 m
3
/min.
Features
HI-SEA high-tech manufacture and excellent service will help minimize customers' operation and maintenance costs to reach the goal of high efficiency,reliability,energy-saving and environmental protection.Please feel free to contact us directly,if you are interested in our products.
Advantages
1.Single row vertical type,differential piston,three stage compression piston-style.
2.Discharge capacity:0.27-0.43 m3/min.
3.Discharge pressure:6.0-19.6 Mpa.
4.Compact construction,small size,light weight and high pressure.
5.Main used for defense area,starting the main engine of ships and the work of water to breathe.
Main Technical Parameters
Model
Pressure
stages
RPM
Capacity
Motor Power
Cooling Type
Dimension
Mpa
rpm
m³/h
Kw
mm
HS104-AC101
6.0
2
500
26
11
Water cooled
1170*700*1220
HS104-AC102
15.0
3
730
30
11
HS104-AC103
15.0
4
900
100
45
1800*850*1540
HS104-AC104
20.0
4
1000
84
45
HS104-AC105
25.0
4
970
84
45
HS104-AC106
25.0
4
1170
100
45
Note:The models in stylebook are part of our products,if you have any requirement,plesae contact with us.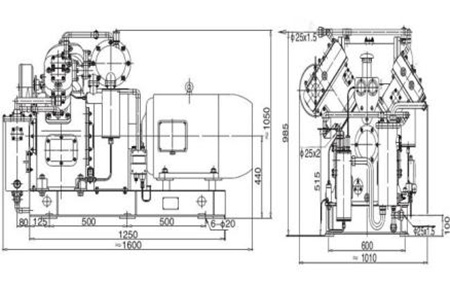 Certificates
The products approved by BV,ABS,CCS,RINA,DNV-GL,etc.they can be offered along with the marine air compressor.

Contact with us now