Gearbox Oil Cooler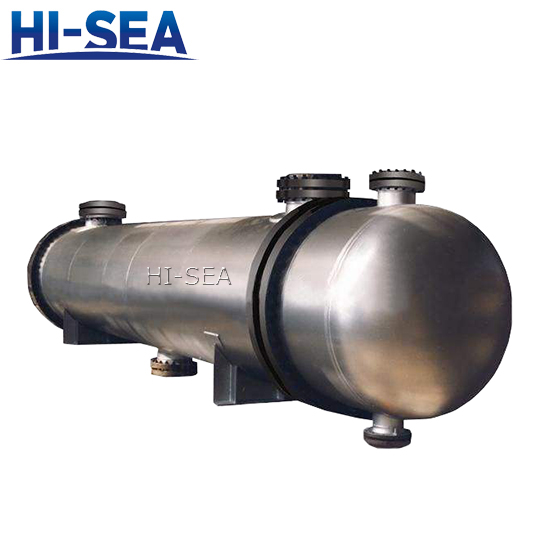 Gearbox Oil Cooler
1. Gearbox Oil Cooler Description
HI-SEA Marine's Gearbox Oil Coolers are a high quality alternative to brass tube coolers traditionally used on marine engine gearboxes. The glass filled nylon headers offer a more robust solution than neoprene moulded equivalents and the high-density tube stack provides high performance despite the small size of the cooler.
2. Details of Gearbox Oil Cooler
Tube diameter: Using a small tube diameter makes the heat exchanger both economical and compact. However, it is more likely for the heat exchanger to foul up faster and the small size makes mechanical cleaning of the fouling difficult. To prevail over the fouling and cleaning problems, larger tube diameters can be used. Thus to determine the tube diameter, the available space, cost and fouling nature of the fluids must be considered.
Tube thickness: The thickness of the wall of the tubes is usually determined to ensure:
There is enough room for corrosion
That flow-induced vibration has resistance
Axial strength
Availability of spare parts
Hoop strength (to withstand internal tube pressure)
Buckling strength (to withstand overpressure in the shell)
Tube length: heat exchangers are usually cheaper when they have a smaller shell diameter and a long tube length. Thus, typically there is an aim to make the heat exchanger as long as physically possible whilst not exceeding production capabilities. However, there are many limitations for this, including space available at the installation site and the need to ensure tubes are available in lengths that are twice the required length (so they can be withdrawn and replaced). Also, long, thin tubes are difficult to take out and replace.
3. Gearbox Oil Cooler Features
(1) 90/10 Cupro-Nickel tubes
(2) Naval Brass tube plates
(3) Aluminium shells
(4) Glass Filled Nylon Headers
(5) Nitrile seals (Viton seal are available for applications where operating temperatures exceed 100ºC)
Related products for "Gearbox Oil Cooler"
Contact with us now