MARINE & OFFSHORE EQUIPMENT
INDUSTRY EQUIPMENT
STOCK LIST
Fresh Water Making Machine
Fresh Water Making Machine
1. Fresh Water Making Machine Introduction
As the content of salt in the seawater is too high, that can not be used directly, there are mainly two methods to desalinate seawater, distillation and reverse osmosis. Distillation is mainly used for super‐huge type seawater desalination and heat energy rich area, energy consumption is very high. Reverse Osmosis is very widely applicable, low energy consumption and high desalination rate, so it's widely used.
We use the international best quality of seawater RO membrane. The membrane's salt removing rate is very high, with stable performance, safe and reliable. The HP pump we used is the international brand which is specialized in seawater desalination, with high and low pressure protection device, ensure the safety and reliable of the equipment. The treated water quality meets the national life drinking water quality standards (GB5749‐85), do not add any chemicals, can be used for direct drinking, fresh and sweet.
For the portable use, reliable water, cheap price etc., after a long time of design and practice, we integrate the reliable technology and advanced technology, make our equipment stand out.
2. Characteristics of Fresh Water Making Machine
(1) Auto operating by pressing one key and auto flushing, easy and convenient to operate. Touch screen + PLC automatic control, more integrated and convenient, real‐time running process, more vivid and visualized. Auto dosing, reducing the fouling of the seawater RO membrane.
(2) The machine sets up high and low voltage protection to prevent the machine from break downing. Device fault alarm and indication is convenient for identifying the causes and maintenance quickly. Kinds of flow and pressure testing instruments, monitoring the device operating state at any time.
(3) Online conductivity meter, monitoring the output water quality at any time. Fully polished stainless steel frame, safe and fastness, elegant appearance. USA imported DOW brand seawater RO membrane, max salt removing rate can reach up to 99.7%. High quality quartz sand filter, can remove the large impurities, alga and so on, and can be manual cleaning independently.
(4) All of the high pressure fittings adopt SS316 material, safe and corrosion resistant. Low pressure fittings adopt high quality UVPC material. Customized end side port FRP membrane housing, simple connection, safe and reliable. SEKO dosing pump, accurate dosing, reducing the fouling of the seawater RO membrane. Metering pump with the power switch, convenient to start and stop. The power cord and dosing tank's level signal lines use the navigation plug connection, convenient disassembly of metering pump.
(5) Cartridge filter protect RO membrane, prolong RO membrane's service life. High quality stainless steel raw water pump. Final production water of ultraviolet disinfection online to ensure the output water quality. High quality SS316L electric slowly open valve, slow opening and closing device high pressure. Universal wheel and adjusting legs make the machine move easier and portable, and is suitable for installation and use under more conditions.
(6) Our machine also has modern design and high integration, such as moveable design, easy to move and assemble. Our machine has most matching accessories, can directly use after connect with water and power, easy operation. This machine has a wide range of power supply, can be connected with common household AC power, gasoline/diesel generator, also can be connected with solar and wind etc.
3. Fresh Water Making Machine Main Configurations
Model/main configuration (Optional)

HS-SWRO-5m³

HS-SWRO-10 m³

Core filtration component

USA DOW4040 sea water desalination membrane 2 pcs

USA DOW4040 sea water desalination membrane 4 pcs

Pretreatment

Sand filter, 5 micron PP filter 2pcs

Post treatment

14W America Hanovia UV sterilizer to ensure the final production water quality

Raw water pump

High quality stainless steel raw water pump, 1.5TPH flow rate, pump lift 25M

High-pressure pump

High quality SS316L high-pressure pump

Instrument

Raw water pump inlet water pressure gauge, high-pressure pump

Inlet water pressure gauge, fresh water flow meter

Online conductivity meter

Korida online conductivity meter

Optional Configuration

liquid level switch, pressure tank
Consumable replacement cycle:
Quartz sand: about one year
5 micron PP filter : about 3 months
USA DOW RO membrane: about 3 years
Note: the premise of calculation of above replacement cycle is on the basis of satisfying the use and maintenance condition of this equipment, running 20 hours per day.
4. Process Flow of Fresh Water Making Machine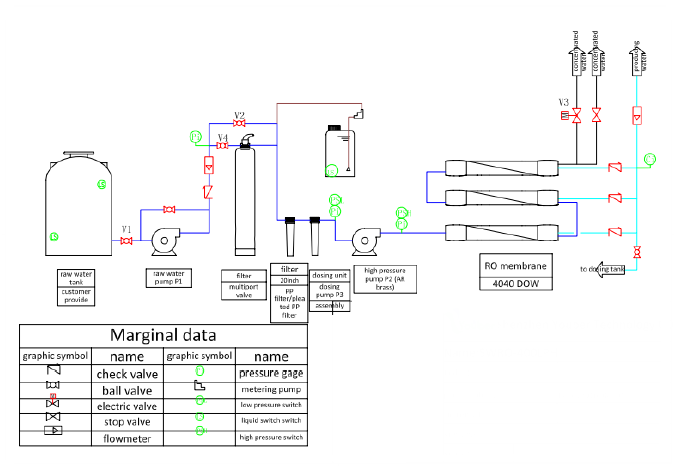 5. Certificates of Fresh Water Making Machine: ABS, BV, DNV.GL, KR, RINA, NK, LR and CCS approvable.

Related products for "Fresh Water Making Machine"
Contact with us now