MARINE & OFFSHORE EQUIPMENT
INDUSTRY EQUIPMENT
STOCK LIST
Explosion Proof Heating Fan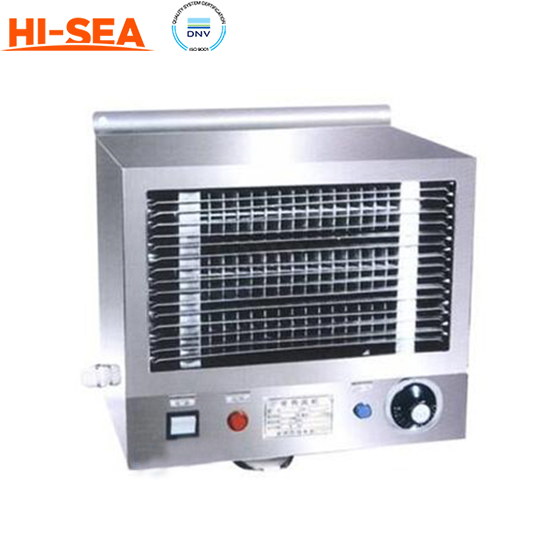 Explosion Proof Heating Fan
1. General
Explosion-proof heating fan, also known as an explosion-proof heater or hazardous location heater, is a specialized type of fan heater designed for use in environments where there is a potential risk of explosions or fire hazards. These heaters are specifically engineered to meet stringent safety standards and regulations to ensure they do not ignite flammable substances or gases present in the environment.
2. Features:
Construction: Explosion-proof heaters are constructed using materials and designs that minimize the risk of sparks or flames. They typically have robust housings made of non-sparking materials such as cast aluminum or stainless steel.
Heating elements: Explosion-proof heaters use specialized heating elements that are designed to minimize the risk of igniting flammable substances. Ceramic heating elements are commonly used due to their high heat efficiency and low surface temperatures.
Fan and airflow: These heaters incorporate fans to distribute warm air throughout the area. The fans are designed to prevent the accumulation of explosive gases or dust particles and often have sealed motors to prevent sparking.
Temperature control and safety features: Explosion-proof heaters typically include adjustable temperature controls and safety features like overheat protection and automatic shutoff to ensure safe operation.
Hazardous location ratings: These heaters are classified into different hazardous location ratings, such as Class I, Division 1 or 2, and Class II, Division 1 or 2. The classification depends on the specific hazardous substances or gases present in the environment and determines the suitability of the heater for that location.
3. Performance Parameter
Voltage

V

Frequency

Hz

Motor

Power

Hz

Air

Volume

M3/h

Steam

Pressure

MPa

Heat

Release

Kcal/h

Condensation

Water

Kg/h

A1

(mm)

A2

(mm)

B1

(mm)

B2

(mm)

220/380

50/60

130

1300

≤0.4

4300

7.5

650

450

320

160

220/380

50/60

180

2500

≤0.4

15120

22.5

750

500

420

260

220/380

50/60

250

3000

≤0.4

21150

30

850

550

420

260
Access Tube

DN

Protection Grade

Noise

20

IP44

55

25

IP44

65

32

IP44

70
REMARK:
Any detail is acceptable if it is necessary for you.
4. IACS Certificate: ABS, KR, CCS, DNV
▪
GL, LR, BV, CE, NK

Related products for "Explosion Proof Heating Fan"
Contact with us now