MARINE & OFFSHORE EQUIPMENT
INDUSTRY EQUIPMENT
STOCK LIST
Erosion Control and Vegetation Mesh Mat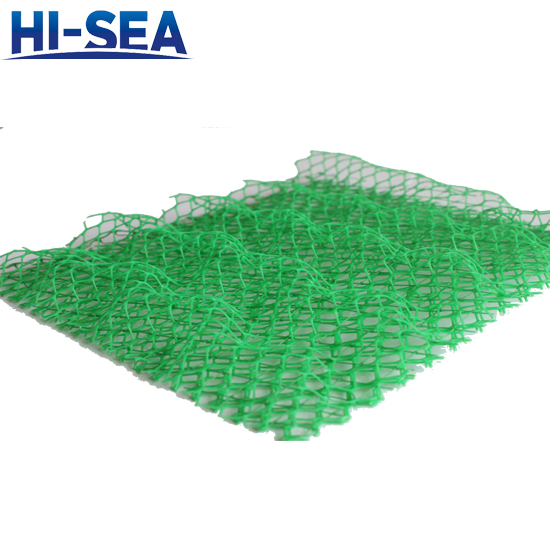 Erosion Control and Vegetation Mesh Mat
Erosion Control and Vegetation Mesh Mat is a stable three-dimensional net structure formed by a single-layer or multi-layer plastic concave-convex net and a high-strength flat net bonded by heat fusion. The appearance of the surface layer is uneven, the material is loose and flexible, leaving more than 90% of the space to fill the soil and sand. The underlying planar network has the characteristics of low elongation and high strength, and plays a role in preventing the slope from falling.
The root system of the plant can pass through the entire geotextile mat in a comfortable and balanced manner, deep into the ground for a depth of 0.5-2 meters, so that the vegetation, mesh mat and soil form a strong composite mechanical interlocking system. The system has good flexibility. When the slope appears to settle, it can settle down without causing overhead. It is a permanent way of slope protection.

Erosion Control and Vegetation Mesh Mat Properties and Specification
| | | | | |
| --- | --- | --- | --- | --- |
| Items | EM2 | EM3 | EM4 | EM5 |
| Unit Weight(g/m2) | ≥220 | ≥260 | ≥350 | ≥430 |
| Thickness(mm) | ≥10 | ≥12 | ≥14 | ≥16 |
| Longitudinal Tensile Strength | ≥0.8 | ≥1.6 | ≥2.0 | ≥3.2 |
| Transverse Tensile Strength | ≥0.8 | ≥1.6 | ≥2.0 | ≥3.2 |
Operating Guidelines for Slope Protection
1.During construction, small bamboo poles or small wooden sticks can be put in the whole roll mat, and the mesh mats can be pulled down along the slope pegged with bamboo nails, wooden nails or plastic nails.( The nail spacing is 30cm, and 10 nails per square meter).
2. The length of the nail is generally 15cm (distance from the ground), and on the loose surface the length of the nail should be lengthened . When laying on a high slope, the length of the nail used for the uphill slope should be longer than the length of the downhill nail.
Related products for "Erosion Control and Vegetation Mesh Mat"
Contact with us now