MARINE & OFFSHORE EQUIPMENT
INDUSTRY EQUIPMENT
STOCK LIST
Elevator Steel Wire Rope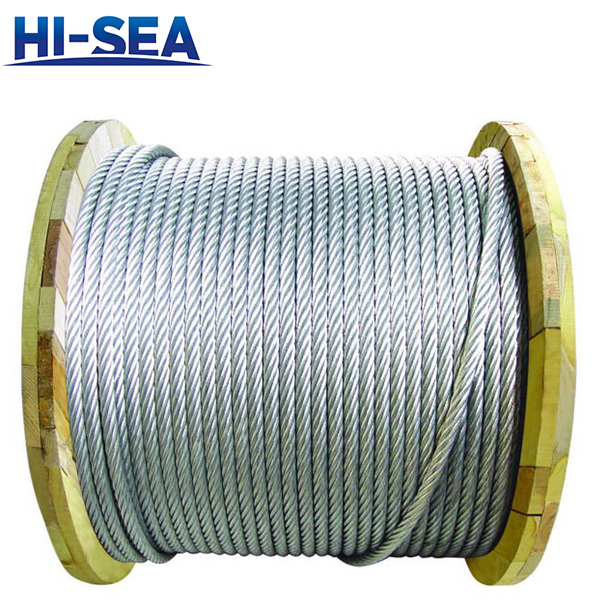 Elevator Steel Wire Rope
Description:
The cores of elevator can divide into three types: fiber core, steel core, mixed core. A variety of materials can adapt to various needs in life .Elevator steel wire rope equipped with durable, various, reliable safety, bending fatigue resistance.
Detail:
1. Common structure:6×19(a)class,6×19(b)class.8×19(a)class,8×19(b)class,9×19 class steel wire rope, etc.
2.Surface treatment: galvanized (as requirements)
3.Material: carbon steel, etc.
4.Diameter:Customized according to customer needs.
5.Breaking load:1570,1670,1770,1870 Mpa(customized according to customer needs.)
6.Strand construction:Seale(1+9+9), Warrington(1+6+6/6, Filler(1+6+6F+12), Warring-Seale(1+7+7/7+14)
Certificate & Standard:
Certificate:ABS,LR,CE,CCS,BV,DNV
Standard:GB8919,GB/T 20067, ISO, ASTM, EN, JIS, etc.
Superiority:
Bending fatigue resistance.
Wear resistance
Good softness and abrasion resistance
Safety Notice:
1.In steady speed.
2.Never overload .
3.Inspect regularly.
4.Clean and replace lubricant to wire rope periodically.
Rope selection of application:
Rope Construction

Application

Remarks

Class and type of core

Construction

6×19FC

6×19S+SFC

6×19W+SFC

6×25Fi+SFC

Governor ropes

Recommendation: NFC for suspension ropes; SFC for governor ropes

6×19S+NFC

6×19W+NFC

6×25Fi+NFC

Suspension ropes for low-rise, low-speed elevators

8X19FC

8X19S+SFC

8X19W+SFC

8X25Fi+SFC

Governor ropes

8X19S+NFC

8X19W+NFC

8X25Fi+NFC

Suspension ropes for elevator speed≤2m/s, building height ≤60m

Please specify when ordering if elevator speed >2m/s

8X19 Steel core

8X19S+8×7+1×19W

8X19W+8×7+1×19W

8X25Fi+8×7+1×19W

Suspension ropes for elevator speed ﹤4m/s, building height ≤100m

Q/320205KABW02-2009

A technical agreement needs to be singed for ordering these ropes. Products comply to Q/320205KAW02-2009

8×19Mixed core

8X19S+8×7+FC

8X19W+8×7+FC

8X25Fi+8×7+FC

8X19S+5×7+FC

Suspension ropes for elevator speed﹤4m/s, building height ≤100m

9X19 Steel core

9X17S+9×7+1×19W

9X19S+9×7+1×19W

9X19W+9×7+1×19W

9X21Fi+9×7+1×19W

9X25Fi+9×7+1×19W

Suspension ropes for elevator speed≥4m/s, building height>100m

9X19Mixed core

9X17S+9×7+FC

9X19S+9×7+FC

9X19W+9×7+FC

9X21Fi+9×7+FC

9X25Fi+9×7+FC

6X36FC

6X29Fi+FC

6X36WSi+FC

Compensating ropes
Contact with us now