MARINE & OFFSHORE EQUIPMENT
INDUSTRY EQUIPMENT
STOCK LIST
Elevator Steel Wire Rope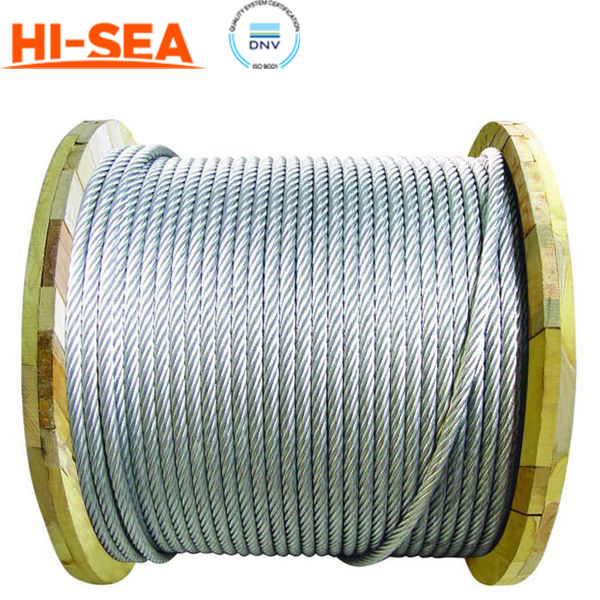 Elevator Steel Wire Rope
Description:
Elevator Wire ropes apply to construct lifting systems and lifts. They are generally supplied as a pair. Right-hand regular lay ropes are generally used in elevator industry. In some special cases, right-hand Lang lay ropes are chosen. The core of elevator wire rope can divide into three types: fiber core, steel core, mixed core. And an elevator wire rope is composed of six, eight or nine strands. A variety of materials can adapt to various needs in life. Elevator steel wire rope equipped with durable, various, reliable safety, bending fatigue resistance.
Detailed Information:
1. Common structure: 6×19(a)class, 6×19(b)class, 8×19(a)class, 8×19(b)class, 9×19 class, etc.
2.Surface treatment: galvanized, oiled (as requirements)
3.Material: high carbon steel wires ,bright steel wires, galvanised steel wires, stainless sieel wires, etc.
4.Diameter:Customized according to customer needs.
5.Breaking load:1570,1670,1770,1870 Mpa (customized according to customer needs.)
6.Strand construction:Seale(1+9+9), Warrington(1+6+6/6), Filler(1+6+6F+12), Warring-Seale(1+7+7/7+14)
7.Certificate & Standard:
Certificate:ABS,LR,CE,CCS,BV,DNV
Standard:GB8919,GB/T 20067, ISO, ASTM, EN, JIS, etc.
Superiority:
1.Wear resistance.

2.Bending fatigue resistance.

3.Good softness and abrasion resistance

4.We have advanced and fully comprehensive specified lengths service in the wire rope industry.

5.We provide the speified lengths of fiber core service in the whole wire rope manufacturing process.

6.We have advanced and standardized packaging system.

7.We adopt the high quality sisal as the fiber core,and acording to the customer request.

8.Low structural elongation and high bending fatigue resistance performance.

9.The lubrication adopts the good quality grease oil.With the professional greasing process,make the grease coating evenly and the lubrication more uniform.



Safety Notice:
1.In steady speed.
2.Never overload .
3.Inspect regularly.
4.Clean and replace lubricant to wire rope periodically.
Rope selection of application:
Rope Construction

Application

Remarks

Class and type of core

Construction

6×19FC

6×19S+SFC

6×19W+SFC

6×25Fi+SFC

Governor ropes

Recommendation: NFC for suspension ropes; SFC for governor ropes

6×19S+NFC

6×19W+NFC

6×25Fi+NFC

Suspension ropes for low-rise, low-speed elevators

8X19FC

8X19S+SFC

8X19W+SFC

8X25Fi+SFC

Governor ropes

8X19S+NFC

8X19W+NFC

8X25Fi+NFC

Suspension ropes for elevator speed≤2m/s, building height ≤60m

Please specify when ordering if elevator speed >2m/s

8X19 Steel core

8X19S+8×7+1×19W

8X19W+8×7+1×19W

8X25Fi+8×7+1×19W

Suspension ropes for elevator speed ﹤4m/s, building height ≤100m

Q/320205KABW02-2009

A technical agreement needs to be singed for ordering these ropes. Products comply to Q/320205KAW02-2009

8×19Mixed core

8X19S+8×7+FC

8X19W+8×7+FC

8X25Fi+8×7+FC

8X19S+5×7+FC

Suspension ropes for elevator speed﹤4m/s, building height ≤100m

9X19 Steel core

9X17S+9×7+1×19W

9X19S+9×7+1×19W

9X19W+9×7+1×19W

9X21Fi+9×7+1×19W

9X25Fi+9×7+1×19W

Suspension ropes for elevator speed≥4m/s, building height>100m

9X19Mixed core

9X17S+9×7+FC

9X19S+9×7+FC

9X19W+9×7+FC

9X21Fi+9×7+FC

9X25Fi+9×7+FC

6X36FC

6X29Fi+FC

6X36WSi+FC

Compensating ropes
Comparison of performance characteristics of NFC, SFC,Independent wire rope core with fiber core and IWRC elevator rope:
Typical cross sections of wire ropes













Type




NATURAL FIBER CORE

(NFC)




SYNTHETIC FIBER CORE

(SFC)




INDEPENDENT WIRE ROPE CORE WITH FIBER CORE




INDEPENDENT WIRE ROPE CORE

(IWR)




Diameter uniformity




Poor

Affected by the quality of the fiber core




About good

Fiber core diameter is relatively uniform




Good




Very good




Dimensional stability







Poor

About good

Good

Very good

Structural elongation

≯0.25%

≯0.25%

≯0.20%

≯0.15%

Percentage of total elongation

≯0.50%

≯0.50%

≯0.30%

≯0.25%

Elasticity modulus

74700-80400

74700-80400

82900-98700

82900-98700

Breaking load

Relatively small

Similar to NFC

Large

More than 23% larger than the same diameter fiber core rope

Large

More than 25% larger than the same diameter fiber core rope

Fatigue life

Relatively short steel core

Relatively short steel core

Long

Under the same load condition, its fatigue life is 1 times longer than that of fiber core rope

Long

Under the same load condition, its fatigue life is 1 times longer than that of fiber core rope

Oil content

Good oil storage.

Less maintenance

Poor oil immersion ability, and can not work at too low or too high temperature

Less maintenance and filling oil

Poor oil immersion ability. Need regular maintenance, fill oil.

Extrusion resistance

The diameter is easy to deform under extrusion

About good

The diameter deformation is small, not suitable for V-groove

Diameter is not easy to deform, not suitable for V-groove

Anti-wear

Good

——

Poor

Poor

Flexibility

Good

Good

A little poor

Poor

Cost

Relatively cheap cost

Higher cost

High cost

High cost
Picture of elevator steel wire rope: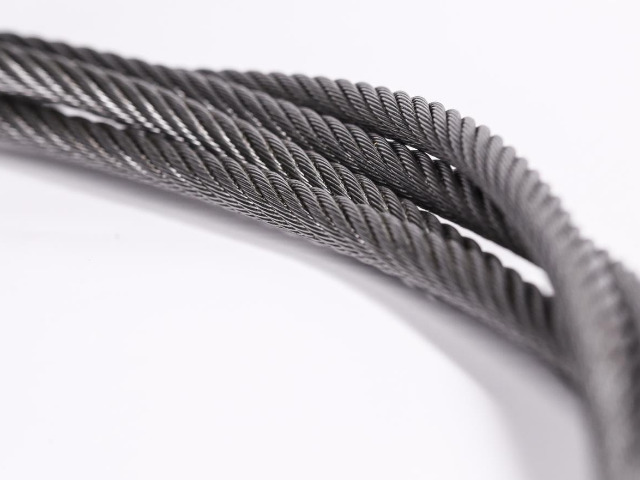 Contact with us now