MARINE & OFFSHORE EQUIPMENT
INDUSTRY EQUIPMENT
STOCK LIST
Double- station Dry Powder Filling Machine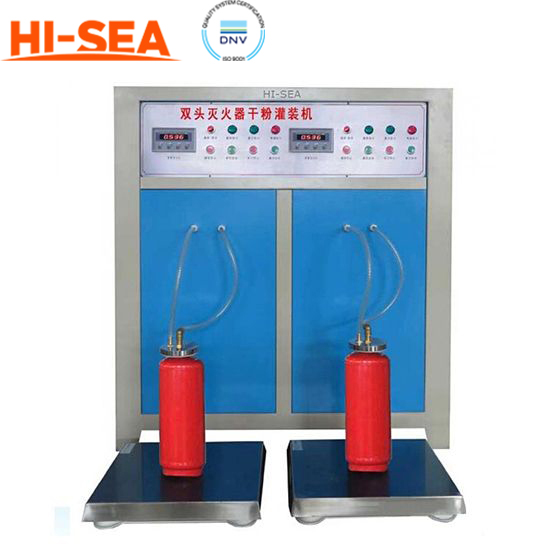 Double- station Dry Powder Filling Machine
Description:
Double- station dry powder filling machine can fill the container of fire extinguisher simultaneously or alternatively. The fully automatic process can make sure it fills container, sucks powder and cleans machine automatically. It can recycle the dry powder in the old fire extinguisher and refill the dry powder to the fire extinguisher. Besides, this filling machine has two electronic scales of 100kg and one high-precision electronic meter to insure accurate filling weight.
Product Superiority:
1. Automatic filling, automatic powder suction, and automatic cleaning
2. Single-chip microcomputer control for high filling accuracy
3. Multiple machines can be controlled by one unit, with powder recycling to save labor and time
4. Double-head filling for fast filling, which can be done simultaneously or alternately.
5. Saving labor and time
Product Detail:
Filling accuracy: 1kg≤±0.015
Filling speed: 8-15kg/min
Voltage: AC380V/220V 50Hz
Power: 1.5Kw
Volume of filling machine: L1300mm×W800mm×H1450mm
Maintenance:
1. Regularly clean the machine: Remove any excess powder from the machine after each use and clean it thoroughly at least once a week. Use a soft cloth and a mild cleaning solution to avoid damaging the machine's surfaces.
2. Lubricate moving parts: Apply lubricant to the machine's moving parts, such as the filling nozzles, valves, and conveyor belts, to ensure they operate smoothly and efficiently.
3. Check for loose connections: Regularly inspect the machine's electrical connections and tighten any loose screws or connections.
4. Inspect filters: Check and clean the machine's air filters to ensure proper airflow and prevent dust and debris from entering the machine.
5. Replace worn parts: Regularly check for worn or damaged parts, such as seals, belts, and bearings, and replace them as necessary to ensure the machine's reliable operation.
6. Follow manufacturer's recommendations: Follow the manufacturer's recommendations for maintenance and service intervals and keep records of all maintenance activities.

Related products for "Double- station Dry Powder Filling Machine "
Contact with us now