CB34-2007 Mooring Chock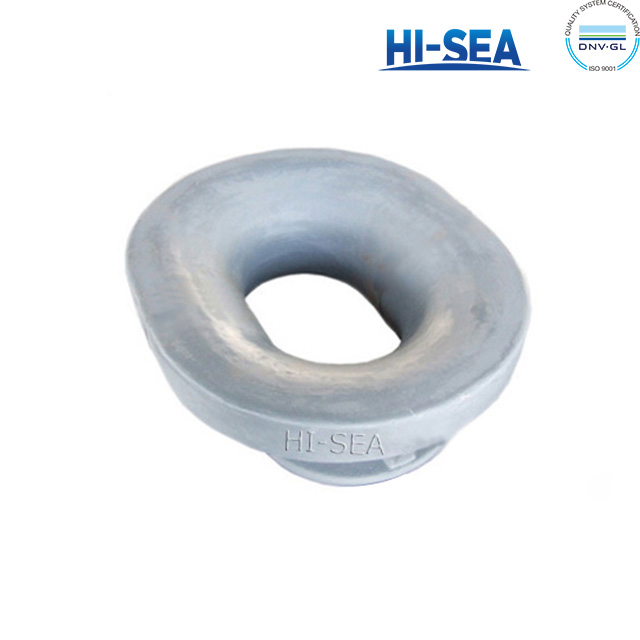 CB34-2007 Mooring Chock
Application: Mooring chock,welded on deck or bulwark,is used to guide and control the mooring ropes. CB34-2007 Marine Chock has several types.CB34-2007 Type A, CB34-2007 Type B, CB34-2007 Type C, CB34-2007 Type D. We, Hi-Sea Marine offer a wide range of chocks including deck and bulwark mounted type. For more information,please feel free to contact us.
Features:
Types: Type A, B, C, and D
Material: Casting Steel
Weight: 16.4-171KG
Standard: CB34-76, CB/T34-2007
Certificates: CCS,DNV·GL,ABS,BV,LR,RS,KR,etc.
Drawings of A-type and AF-type Mooring Chock with a size of 150~300mm: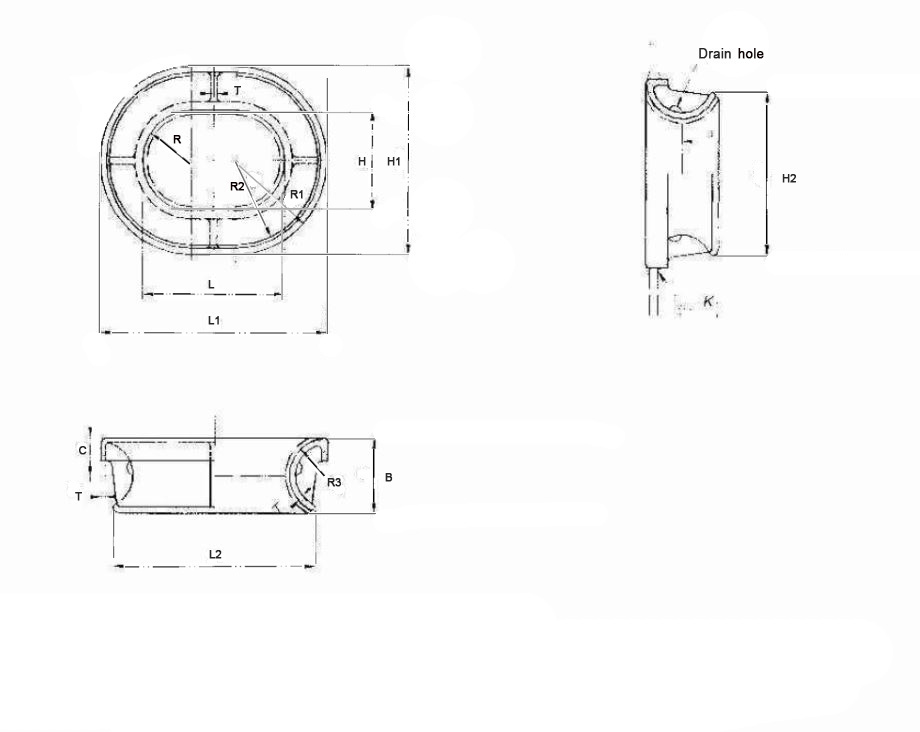 Drawings of A-type and AF-type Mooring Chock with a size of 350~550mm: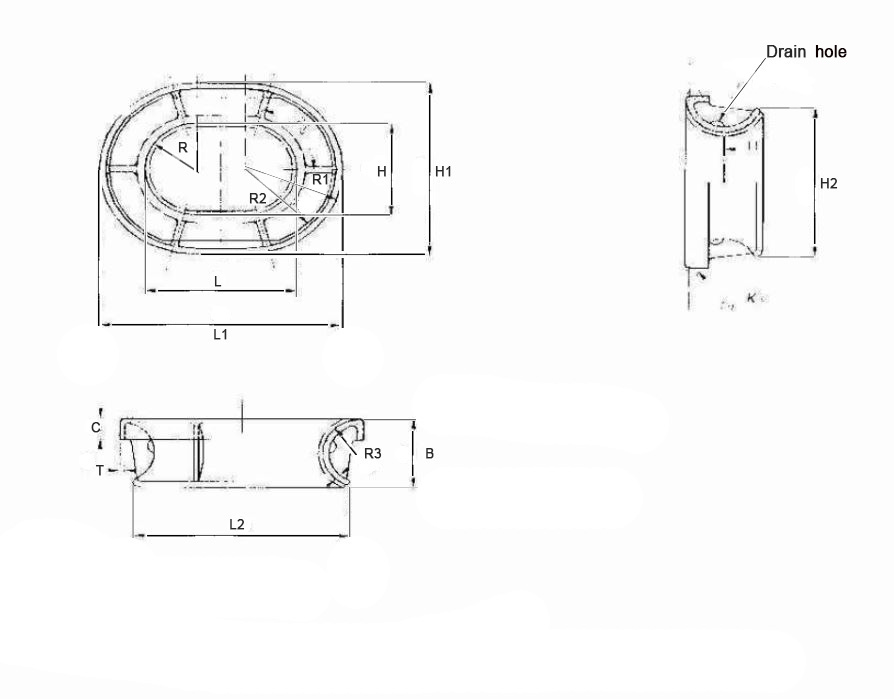 Parameters of A-type and AF-type Mooring Chock with a size of 150~550mm:

Nomanal

size

L

(mm)

Max

diameter

of steel

cable

Max

circumference

of hemp

rope

Max

diameter

of

synthetic

fiber rope

L1
L2
H
H1
H2
B
C
R
R1
R2
R3
T

Weight

of type

A

(kg)

Weight of type AF

(kg)

Weight of coated stainless steel material
Weight after coating
150
16
125
30
300
270
110
260
202
129
40
55
130
115
65
12
15
6
21
200
18
140
35
368
334
150
318
250
143
42
75
159
142
72
12
21
8
29
250
20
160
40
430
394
200
380
308
155
44
100
190
172
78
12
27
9
36
300
22
190
45
500
460
250
450
372
169
52
125
225
205
85
15
43
12
55
350
24
220
50
560
518
250
460
378
179
55
125
230
209
90
15
51
16
67
400
26
250
60
632
586
250
482
394
195
60
125
241
218
98
18
76
20
96
450
30
270
70
700
650
250
500
406
209
62
125
250
225
105
20
102
26
128
500
36
290
80
760
708
250
510
412
219
65
125
255
229
110
20
115
32
147
550
44
310
90
830
775
280
560
460
229
70
140
280
253
115
24
135
38
172
Drawing
s
and Parameters of B-type and BF-type
Mooring Chock
with a size of 100~200mm: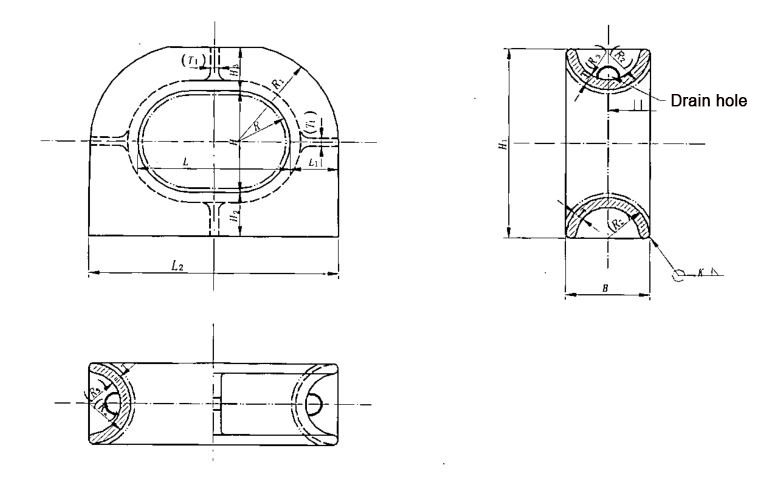 Nomi-nal

size

L

(mm)

Max

dia-meter

of steel

cable

Max

Circum-

ference

of hemp

rope

Max

dia-meter

of

synt-hetic

fiber rope

L1

L2

B

H

H1

H2

H3

R

R1

T

(T1)

(R2)

(R3)

Weight

of type

B

(kg)

Weight of type BF

(kg)

Weight of

coated stainless steel material

Weight after coating

100

14

75

18

35

170

60

76

141

30

35

38

73

12

10

30

18

4

1

5

150

16

94

22

50

250

90

110

205

45

50

55

105

16

12

45

29

11

3

14

200

18

126

28

70

340

120

150

280

60

70

75

145

20

16

60

40

24

5

29
Drawing
s
of B-type and BF-type
Mooring Chock
with a size of 250~550mm: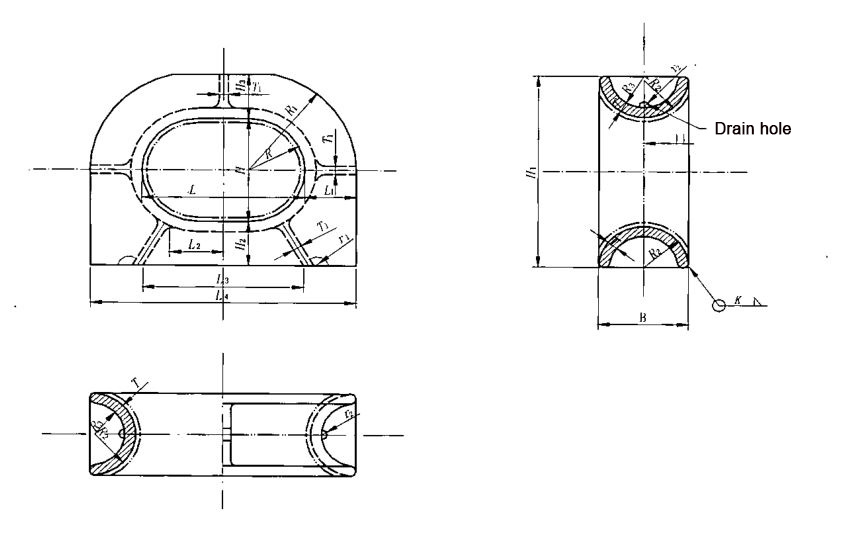 Nom-

anal

size

L

(mm)

Max

Diam-

eter

Of

steel

cable

Max

Circum-

ference

Of

hemp

rope

Max

Diam-

eter

of

Synt-

hetic

Fiber

rope

L1

L2

L3

L4

B

H

H1

H2

H3

R

R1

R2

R3

r1

r2

T

T1

Weight

of type

A

(kg)

Weight of type AF

(kg)

Weight

of

coated stainless steel material

Weight after coating

250

20

160

40

92

100

250

434

160

200

372

80

92

100

192

80

56

20

15

24

20

48

5

53

300

22

190

45

114

110

300

528

200

250

464

100

114

125

239

100

72

25

20

28

22

83

7

90

350

24

220

50

125

125

350

600

220

250

485

110

125

125

250

110

80

30

20

30

22

103

10

113

400

26

250

60

136

135

370

672

240

250

506

120

136

125

261

120

88

30

20

32

25

136

12

148

450

30

270

70

148

150

400

746

260

250

528

130

148

125

273

130

94

30

20

36

28

184

14

198

500

36

290

80

160

175

450

820

280

250

550

140

160

125

285

140

100

30

20

40

30

232

16

248

550

44

310

90

172

190

500

894

300

260

570

145

165

125

300

150

106

32

22

44

33

280

20

300
Parameters of C-type Mooring Chock with a size of 120~320mm: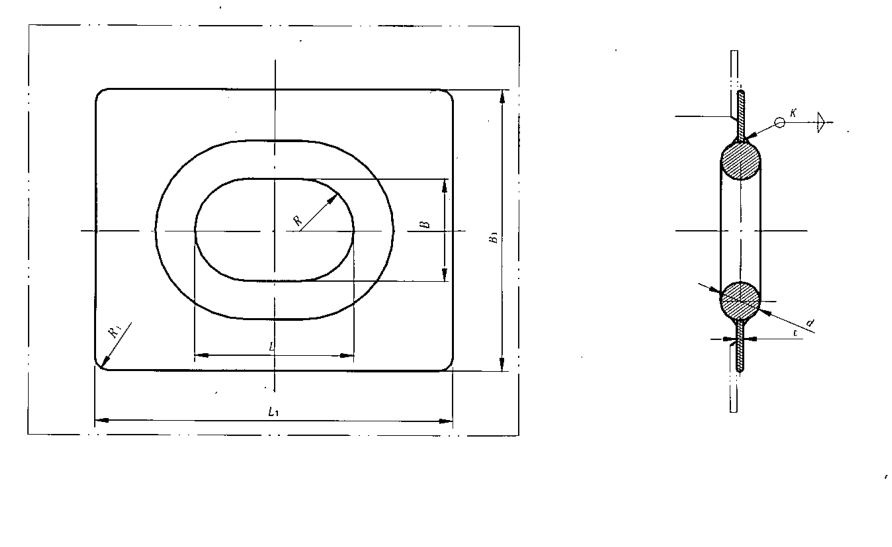 Nomanal

size

L

(mm)

Max

diameter

of steel

cable

Max

circumference

of hemp

rope

Max

diameter

of

synthetic

fiber rope

L1

B

B1

d

R

R1

t

Weight(kg)

120

-

90

40

270

80

220

30

40

8

5

4

160

15.0

125

45

360

110

300

40

55

8

5

9

200

18.5

160

50

450

130

350

50

65

8

8

18

260

22.5

200

60

570

170

440

60

85

8

8

30

320

28.0

230

70

700

200

500

70

100

8

10

49
Chock in Factory: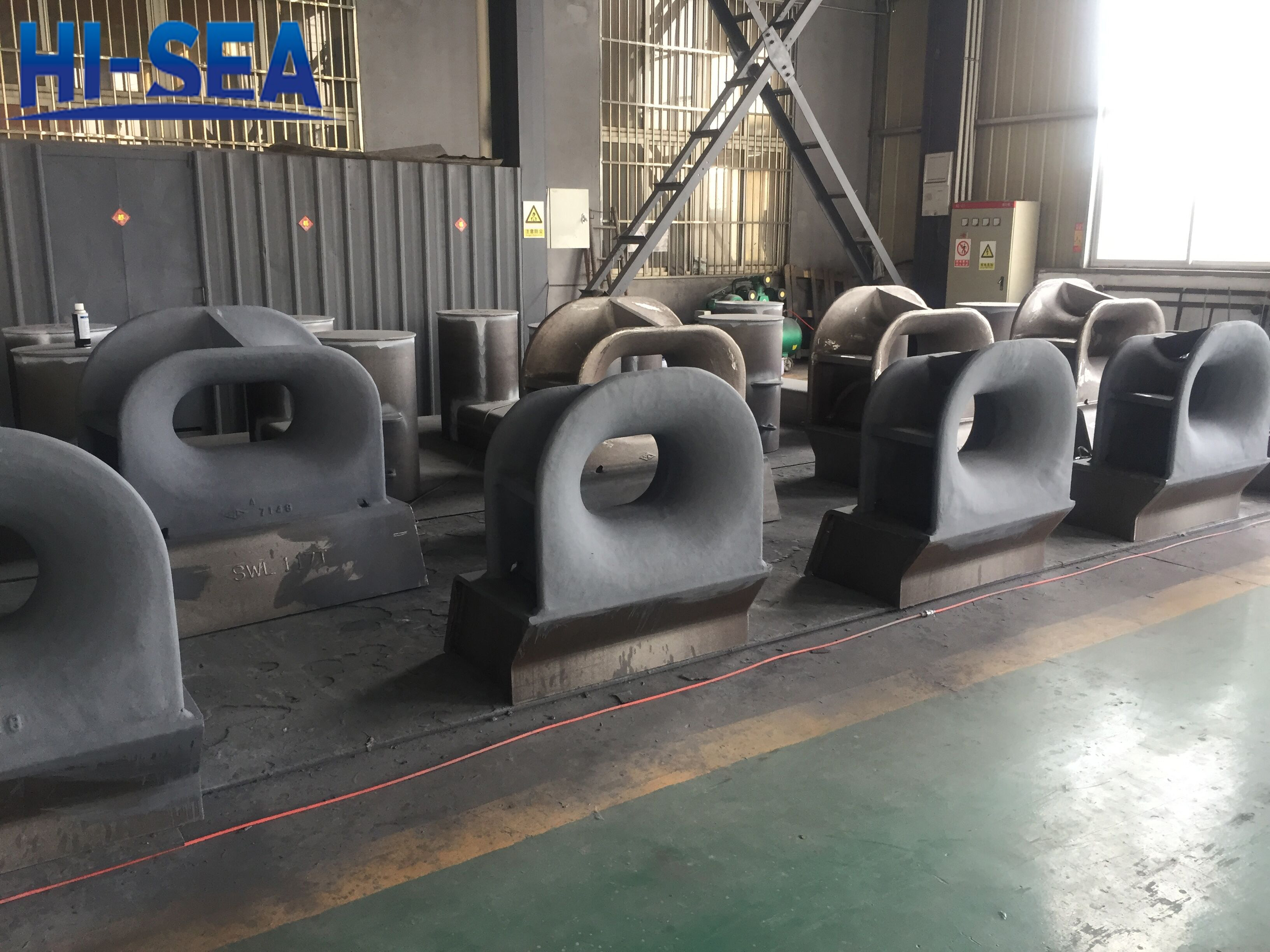 Contact with us now