Bilge Oily Water Separator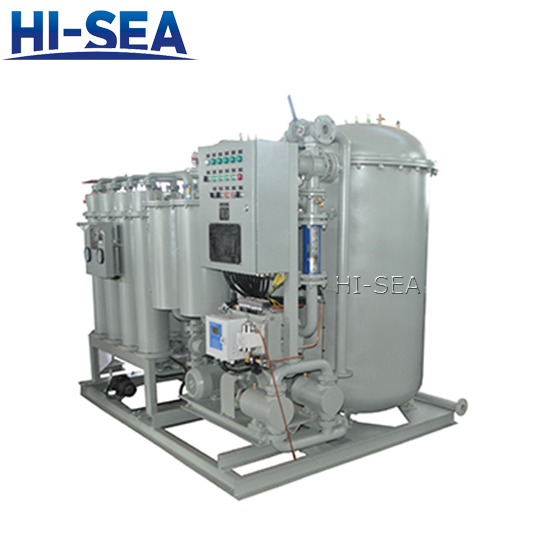 Bilge Oily Water Separator
1. Bilge Oily Water Separator Preface
This device can be used to treat the oily bilge water in order to make it reach the requirements of IMO.MEPC.107 (49) resolution, which is also called 15ppm bilge separator. It contains type approved 15ppm bilge water separator, 15ppm bilge alarm and automatic shut down device.
2. Bilge Oily Water Separator System Process
The bilge oily water comes into the 1st separator through Seawater initial filter and bottom valve, floating ball non-returned valve V1. There is an oil chamber in the top of separator. Most of the oil in the bilge oily water floats to the surface of chamber because of the effects of small gravities. The tiny oil drops gather and coalesce in the cone wave plate which is made of hydrophilic and oil-left materials and floats in the main and then adverse current. The water flows from the bottom of the 1st separator goes through the pneumatic valve Vs3 into the inlet of Feeding pump. When the Feeding pump is in operation, Vs3 is opened automatically while the flushing valve Vs2 is closed.
When the oil accumulates to interface level in the top chamber of the 1st coalescer, the oil water interface electrode sends out a signal and the pneumatic valve Vs1, Vs2 is opened and VS3 is shut down automatically to let back flushing water into the bottom of 1st coalescer. At this time, the feeding pump is not working. The back flushing water(fresh water) props up the oil to let the oil discharge to the waste oil tank through pneumatic oil discharge valve Vs1. At that time, the feeding pump doesn't work(VS1 is closed Pneumatic Valve). It resets automatically after the oil is discharged and it again starts to treat the oily bilge water.
The effluent already treated by the 1st coalescer comes into the 2nd filter and is treated again, then is discharged to overboard. If the oil content in the effluent is overlimit, Three-way valve Vs4 will be automatically turned to the direction of 3rd separation .(Note:YWC-2.00,YWC-2.50,YWC-3.00,YWC-5.00,YWC-5.00pneumatic VS4 is closed,VS5 is opened and turned to 3rd stage treatment)make the exceeded water enter into 3rd stage membrane separation.In this way, the water is further treated in the 3rd membrane element. THE 3rd Ultrafiltration adopts permeation principle. The ultrafiltrated liquid finally fLow into outboard valve through outlet ball valve V3, check valve V5, flow meter, pneumatic triple valve VS6 and manual triple valve V7.
3. Bilge Oily Water Separator Caution
This device uses high voltage power source and may cause the imminent hazardous injury caused by electric shock. The door of electric control box should not be opened at presumptuously. When doing electrical repair, make sure the power is cut off and the repair is to be done by professionals.
4. Certificates of Bilge Oily Water Separator: CCS, EC, BV, GL , KR, DNV, LR, ABS, RINA approvable.

Contact with us now