Ballast Water Treatment System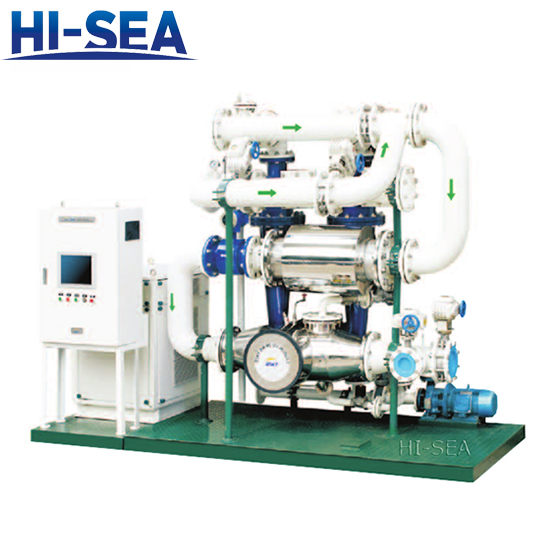 Ballast Water Treatment System
1. Ballast Water Treatment System Preface
Pollution caused by discharge of ship's ballast water has been confirmed as one of the four major pollution sources to the world oceans. UV disinfection has become one of the most mature, reliable, effective pure physical methods for ship's ballast water disinfection.
For the ship's ballast water, this specific treatment object, our expert designs enhanced physical technology (EPT) including hydrocyclone separation filter + ultrasonic wave pre-treatment + UV reactor disinfection, uses powerful function to rapidly treat ballast water, so as to complete the ballast and discharge during loading and unloading, the treated ballast water discharged following treatment completely meets the requirement of International Maritime Organization (IMO) and United States Coast Guard (USCG).
2. Filters of Ballast Water Treatment System
The biggest worry for ship owners —— Filter clogging problem
(1) The size of sieve in the filter of all ballast water treatment device is 20-50μm, less than the diameter of hair, therefore, the clogging problem is a trouble to all users.
(2) Filamentous, flocculent or trichosporon kinds marine microbe easily cling to a gap between protective mesh and filter screen, it causes terrible inconvenience during back flushing.
(3) In case ship's draft line is deep, a lot of mud and sand will be sucked from sea chest, it would clog the filter.
(4) This kind of a minute and fine filter brings big resistance to water flow, and it requires very high pressure to discharge water through the filter, which causes great pressure loss of ballast water pipe and great equipment pressure loss.
Revolutionary breakthrough —— Hydrocyclone technology replaces traditional filters
(1) No mesh
(2) No maintenance part
(3) Simple expansion
(4) Noiseless
(5) High-end duplex stainless steel
(6) Distributed installation
(7) No moving parts
(8) No service time limit
(9) Can be tilted for no more than 45 degrees to install
3. Ballast Water Treatment System US Prefilter Module
Ultrasonic performanc
(1) The ultrasonic cavitation effect produces a high temperature of 1900--5200k and a high pressure of more than 500atm, with a temperature change rate up to 109K/s, accompanied by a strong shock wave and a microjet at a speed of 110/s. This extreme condition is conduciv parallel field theory design maximizes efficiencye to the degradation of organic pollutants in the water body.
(2) Suitable for a wider range of UVT, the best companion with UV to sterilize.
(3) System cleaning function
(4) Biological cell walls breaking function
4. Ballast Water Treatment System UV module
(1) Medium pressure UV lamp has simple structure, wide range of radiation spectrum, and high energy intensity.
(2) Under the intelligent control of BSKY CON controller, BSKY UV Module can be ensured to work in the optimal state, which can save energy, prolong the service life of UV lamp, reduce operation cost and increase your investment return.
(3) Lamp quantity, UV dosage, operation time of lamp and system can be displayed to the operator, with function of UV output information, maintenance, warning and alarm.
5. Ballast Water Management Several Class Certificates Supply:
ABS, BV, DNV, GL, KR, RINA, NK, USCG and CCS class certificates.

Related products for "Ballast Water Treatment System"
Contact with us now