Anchor Chain Joining Shackle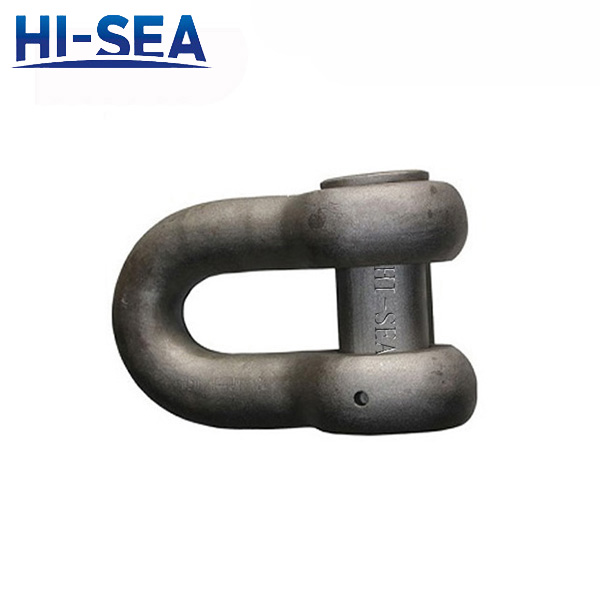 Anchor Chain Joining Shackle
Application:
Anchor chain joining shackle belongs to one part of anchor chain accessories, which is used to connect rack links of anchor chains. Joining shackle is applicable to both grade 2 and grade 3 anchor chains whose diameters is from 14mm to 162mm. It is well drop forged shackle for mooring and anchor chains.Through the past years, we built up good business relationships with our customers all over the world. Our technical staff can make any products according to customer's drawing or sample. Sometimes we can give some suggestions to help our customer to improve the design and make the products work better. We can also provide other types of marine shackles and other anchor chain accessories. For more information, please feel free to contact us by sending an e-mail or giving us a phone call.
Features:
Type: Anchor Chain Joining Shackle.
Material: Forged Steel or Cast Steel.
Surface: Galvanized or customized.
Grade Classification: U2/U3.
Nominal Diameter:14mm to 162mm.
Proof Load:82KN to 11180KN.
Breaking Load:116KN to 15980KN.
Size: Can be customized.
Packing: Carton or Wooden Case.
Certificates: CCS,ABS,BV,LR,NK,RINA,etc.
Drawings and Parameters of Anchor Chain Joining Shackle: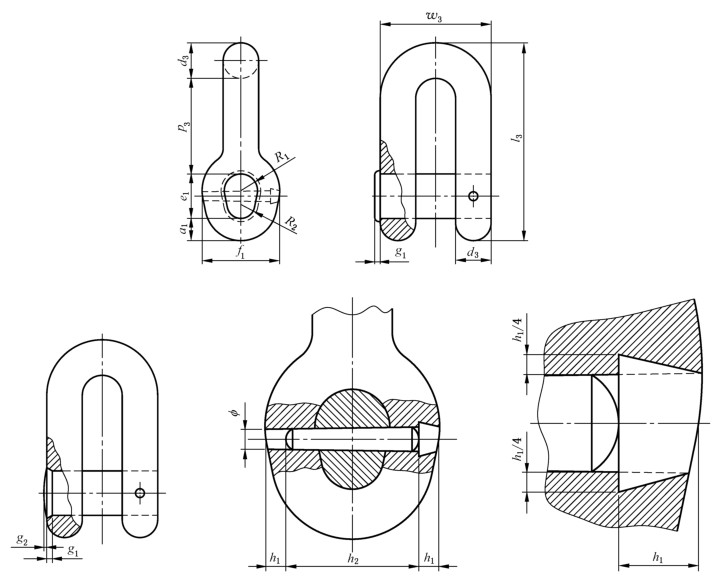 Nominal

Diameter

(mm)

d3

l3

p3

w3

a1

e1

f1

g1

g2

h1

h2

2R1

2R2

Weight(kg)

11

15

78

37

44

9

18

31

2.2

1.1

4

23

13

11

0.53

12.5

16

89

43

50

10

20

35

2.5

1.3

25

15

12.5

0.60

14

18

99

48

56

11

22

39

3.0

1.4

6

28

17

14.0

0.67

16

21

114

54

64

13

26

45

3.0

1.6

32

21

17.5

0.95

17.5

23

124

60

70

14

28

49

3.5

1.8

38

21

17.5

1.34

19

25

135

65

76

15

30

53

4.0

2.0

40

23

19.0

1.84

20.5

27

146

70

82

16

33

57

4.0

2.0

45

25

20.5

2.20

22

29

156

75

88

18

35

62

4.4

2.2

50

26

22.0

2.66

24

31

170

82

96

19

38

67

5.0

2.4

8

55

29

24.0

3.40

26

34

185

88

104

21

42

73

5.0

2.6

60

31

26.0

4.50

28

36

199

95

112

22

45

78

5.6

2.8

60

34

28.0

5.19

30

39

213

102

120

24

48

84

6.0

3.0

70

36

30.0

6.32

32

42

227

109

128

26

51

90

6.4

3.2

75

38

32.0

8.24

34

44

241

116

136

27

54

95

7.0

3.4

80

41

34.0

9.56

36

47

256

122

144

29

58

101

7.0

3.6

10

80

43

36.0

11.31

38

49

270

129

152

30

61

106

7.6

3.8

85

46

38.0

13.45

40

52

284

136

160

32

64

112

8.0

4.0

90

48

40.0

15.50

42

55

298

143

168

34

67

118

8.4

4.2

95

50

42.0

18.10

44

57

312

150

176

35

70

123

9.0

4.4

100

53

44.0

20.25

46

60

327

156

184

37

74

129

9.0

4.6

105

55

46.0

23.33

48

62

341

163

192

38.5

77

134

9.5

4.8

12

110

58

48.0

27.50

50

65

355

170

200

40

80

140

10

5.0

115

60

50.0

31.60

52

68

369

177

208

42

83

146

10.4

5.2

120

62

52.0

34.00

54

70

383

184

216

43

86

151

11.0

5.4

125

65

54.0

38.50

56

73

398

190

224

45

90

157

11.0

5.6

130

67

56.0

46.00

58

75

412

197

232

46

93

162

11.6

5.8

140

70

58.0

46.80

60

78

426

204

240

48

96

168

12.0

6.0

140

72

60.0

51.00

62

81

440

211

248

50

99

174

12.4

6.2

145

74

62.0

59.20

64

83

454

218

256

51

102

179

13.0

6.4

16

150

77

64.0

62.70

66

86

469

224

264

53

106

185

13.0

6.6

150

79

66.0

75.00

68

88

483

231

272

54

109

190

13.6

6.8

155

82

68.0

76.70

70

91

497

238

280

56

112

196

14.0

7.0

160

84

70.0

90.00

73

95

518

248

292

58

117

204

14.6

7.3

170

88

73.0

95.00

76

99

540

258

304

61

122

213

15.0

7.6

180

91

76.0

107.00

78

101

554

265

312

62

125

218

15.6

7.8

180

94

78.0

116.00

81

105

575

275

324

65

130

227

16.0

8.0

190

97

81.0

130.00

84

109

596

286

336

67

134

235

17.0

8.4

200

101

84.0

136.00

87

113

618

296

348

70

139

244

17.4

8.7

200

104

87.0

160.00

90

117

639

306

360

72

144

252

18.0

9.0

210

108

90.0

176.00

92

120

653

313

368

74

147

258

18.4

9.2

220

110

92.0

196.00

95

124

675

323

380

76

152

266

19.0

9.5

220

114

95.0

215.00

97

126

689

330

388

78

155

272

19.4

9.7

20

230

116

97.0

222.00

100

130

710

340

400

80

160

280

20.0

10.0

230

120

100.0

252.00

102

133

724

347

408

82

163

286

20.4

10.2

240

122

102.0

267.00

105

137

746

357

420

84

168

294

21.0

10.5

250

126

105.0

294.00

107

139

760

364

428

86

171

300

21.4

10.7

260

128

107.0

305.00

111

144

788

377

444

89

178

311

22.0

11.0

260

133

111.0

325.00

114

148

809

388

456

91

182

319

23.0

11.4

280

137

114.0

345.00

117

152

831

398

468

94

187

328

23.4

11.7

280

140

117.0

365.00

120

156

852

408

480

96

192

336

24.0

12.0

290

144

120.0

400.00

122

159

866

415

488

98

195

342

24.5

12.3

300

146

122.0

425.00

124

161

880

422

496

99

198

347

25.0

12.4

300

149

124.0

465.00

127

165

902

432

508

102

203

356

25.4

12.7

25

300

152

127.0

499.00

130

169

923

442

520

104

208

364

26.0

13.0

320

156

130.0

536.00

132

172

937

449

528

106

211

370

26.4

13.2

320

158

132.0

561.00

137

178

973

466

548

110

219

384

27.5

13.7

320

164

137.0

627.00

142

185

1008

483

568

114

227

398

28.4

14.2

350

170

142.0

698.00

147

191

1044

500

588

118

235

412

29.4

14.7

350

176

147.0

774.00

152

198

1079

517

608

122

243

426

30.4

15.2

350

182

152.0

856.00

157

204

1115

534

628

126

251

440

31.4

15.7

400

188

157.0

943.00

162

211

1150

551

648

130

259

454

32.4

16.2

400

194

162.0

1036.00
Contact with us now