Anchor Chain End Shackle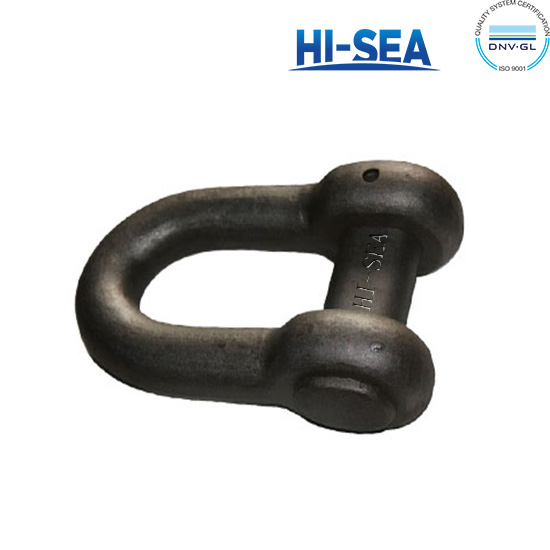 Anchor Chain End Shackle
Application:Anchor Shackle A.S, also called End Shackle E.S, is a U-shaped piece of metal secured with a clevis pin or bolt across the opening. End shackle is used to join anchor chain and anchor or the fixing eye plate in the chain locker. It is made by drop forged and hot dip galvanized. Through the past years, we built up good business relationships with our customers all over the world. Our technical staff can make any products according to customer's drawing or sample. Sometimes we can give some suggestions to help our customer to improve the design and make the products work better. We can also provide u other types of marine shackles and other anchor chain accessories.For more information, please feel free to contact us by sending an e-mail or giving us a phone call.
Features:
Type: Anchor Chain End Shackle
Material: Forged Steel or Cast Steel
Surface: Galvanized or customized
Grade Classification: Grade 2 or Grade 3
Nominal Diameter: 14mm to 162mm
Proof Load: 82KN to 7990KN
Breaking Load: 116KN to 11180KN
Size: Can be customized
Packing: Carton or Wooden Case
Certificates: CCS,ABS,BV,LR,NK,RINA,etc.
Drawing of Anchor Chain End Shackle: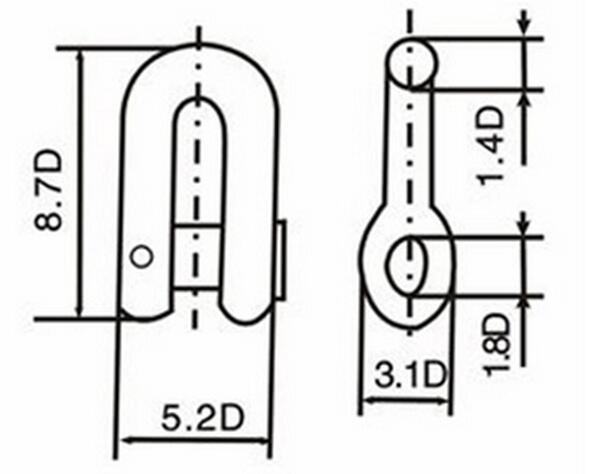 | | | | | |
| --- | --- | --- | --- | --- |
| Diameter(mm) | Length(mm) | Width(mm) | Proof Load(KN) | Breaking Load(KN) |
| 14 | 122 | 73 | 82 | 116 |
| 16 | 139 | 83 | 107 | 150 |
| 17.5 | 152 | 91 | 127 | 179 |
| 19 | 165 | 99 | 150 | 211 |
| 20.5 | 178 | 107 | 175 | 244 |
| 22 | 191 | 114 | 200 | 280 |
| 24 | 209 | 125 | 237 | 332 |
| 26 | 226 | 135 | 278 | 389 |
| 28 | 244 | 146 | 321 | 449 |
| 30 | 261 | 156 | 368 | 514 |
| 34 | 296 | 176 | 468 | 655 |
| 36 | 313 | 187 | 523 | 732 |
| 38 | 331 | 198 | 581 | 812 |
| 40 | 348 | 208 | 640 | 896 |
| 42 | 365 | 218 | 703 | 981 |
| 44 | 383 | 229 | 769 | 1080 |
| 46 | 400 | 239 | 837 | 1170 |
| 48 | 418 | 250 | 908 | 1270 |
| 50 | 435 | 260 | 981 | 1370 |
| 52 | 452 | 270 | 1060 | 1480 |
| 54 | 470 | 270 | 1140 | 1590 |
| 56 | 487 | 291 | 1220 | 1710 |
| 58 | 505 | 302 | 1290 | 1810 |
| 60 | 539 | 312 | 1380 | 1940 |
| 62 | 539 | 322 | 1470 | 2060 |
| 64 | 557 | 333 | 1560 | 2190 |
| 66 | 574 | 343 | 1660 | 2310 |
| 68 | 592 | 354 | 1750 | 2450 |
| 70 | 609 | 364 | 1840 | 2580 |
| 73 | 635 | 380 | 1990 | 2790 |
| 76 | 661 | 395 | 2150 | 3010 |
| 78 | 678 | 406 | 2260 | 3160 |
| 81 | 705 | 421 | 2410 | 3380 |
| 84 | 731 | 437 | 2580 | 3610 |
| 87 | 757 | 452 | 2750 | 3850 |
| 90 | 783 | 468 | 2920 | 4090 |
| 92 | 800 | 478 | 3040 | 4260 |
| 95 | 827 | 494 | 3230 | 4510 |
| 97 | 844 | 504 | 3340 | 4680 |
| 100 | 870 | 520 | 3530 | 4940 |
| 102 | 887 | 530 | 3660 | 5120 |
| 105 | 914 | 546 | 3850 | 5390 |
| 107 | 931 | 556 | 3980 | 5570 |
| 111 | 966 | 577 | 4250 | 5940 |
| 114 | 992 | 593 | 4440 | 6230 |
| 117 | 1018 | 608 | 4650 | 6510 |
| 120 | 1044 | 624 | 4850 | 6810 |
| 122 | 1061 | 634 | 5000 | 7000 |
| 124 | 1079 | 645 | 5140 | 7200 |
| 127 | 1105 | 660 | 5350 | 7490 |
| 130 | 1131 | 676 | 5570 | 7800 |
| 132 | 1148 | 686 | 5720 | 8000 |
| 137 | 1192 | 712 | 6080 | 8510 |
| 142 | 1235 | 738 | 6450 | 9030 |
| 147 | 1279 | 764 | 6840 | 9560 |
| 152 | 1322 | 790 | 7220 | 10100 |
| 157 | 1366 | 816 | 7600 | 10640 |
| 162 | 1409 | 842 | 7990 | 11180 |
Marine Shackle in Factory: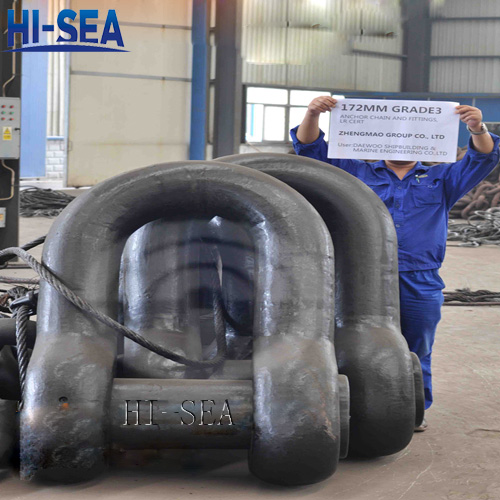 Contact with us now