American Standard Welded Link Chain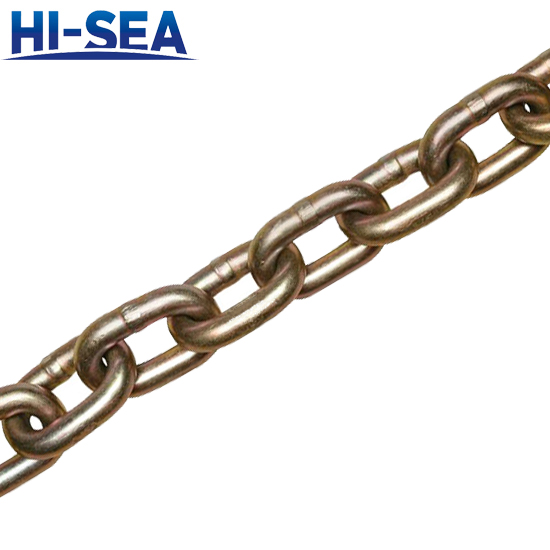 American Standard Welded Link Chain
1. Product Description
American standard welded link chain is manufactured according to ASTM & NACM. Hi-sea can provide American standard chain series including grade 30 proof coil chain, grade 43 high test chain, grade 70 transport chain, grade 80 alloy chain, and grade 100 alloy chain. Besides, non-standard customized welded link chains are also available.
In addition to the American standard welded link chain, Hi-sea also provide other standard chains, such as chains of German, Japanese, Chinese, and British standards.
If you have any inquires, please feel free to contact us.
2. Features for American Standard Welded Link Chain
• Type: welded link chain
• Standard: ASTM A391/A391M, ASTM A973/A973M, ASTM A413/A413M, NACM...
• Material: carbon steel, alloy steel and stainless steel
• Finish: self colored, burnished, zinc plated, galvanized and powder coated
• Packaging: drums, pails, reels, hanks...or as your request
3. American Standard Welded Link Chain Series
Grade 30 Proof Coil Chain

Material: low carbon steel

Material Diameter: 4 mm ~ 26 mm

Standard: ASTM A413/A413M, NACM

Application: barrier chains, trailer safety chains, light construction, agriculture...

Grade 43 High Test Chain

Material: medium carbon steel

Material Diameter: 7 mm ~ 22 mm

Standard: ASTM A413/A413M, NACM

Application: mooring applications

Grade 70 Transport Chain

Material: carbon steel

Material Diameter: 7 mm ~ 20 mm

Standard: ASTM A413/A413M, NACM

Application: tow/binder assemblies, agriculture, construction, industry, forestry...

Grade 80 Alloy Chain

Material: alloy steel

Material Diameter: 5.5 mm ~ 32 mm

Standard: ASTM A391/A391M, NACM

Application: lifting purposes

Grade 100 Alloy Chain

Material: alloy steel

Material Diameter: 5.5 mm ~ 22 mm

Standard: ASTM A391/A391M, NACM

Application: lifting purposes

American Standard Stainless Steel Welded Link Chain

Material: stainless steel

Material Diameter: 4 mm ~ 26 mm

Standard: ASTM, NACM

Application: not for lifting purposes
4. Photo of American Standard Welded Link Chain
Contact with us now