MARINE & OFFSHORE EQUIPMENT
INDUSTRY EQUIPMENT
STOCK LIST
1620L Oil Supply System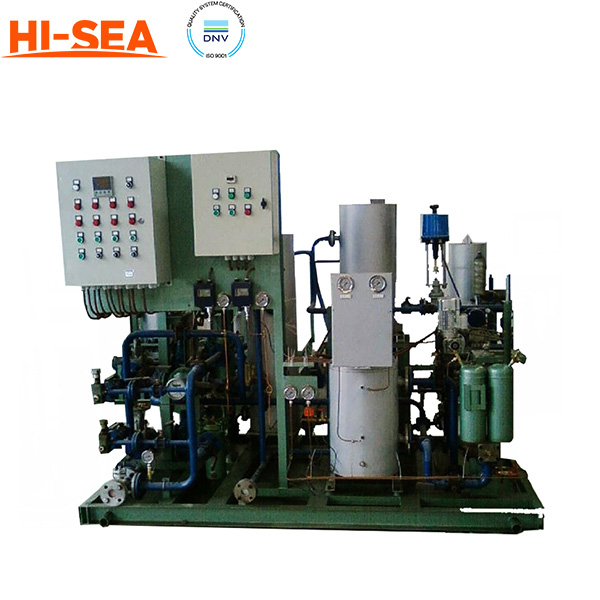 1620L Oil Supply System
Introduction
In the fuel oil supply device, the supply pressure of fuel supply device is stable, which makes diesel oil enter the engine, satisfy the temperature and viscosity of diesel oil entering diesel engine, achieve ideal fuel combustion effect, give full play to maximum working efficiency, reduce diesel engine exhaust and carbon accumulation, and prolong the service life of diesel engine and its parts.
Basic Drawing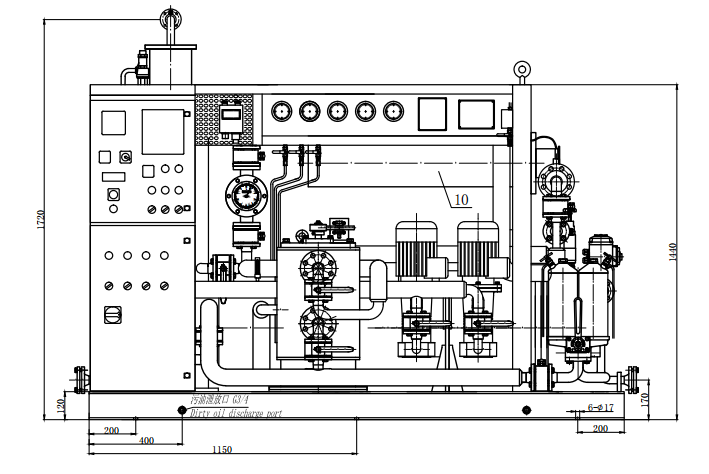 Technical Specifications
| | | | | |
| --- | --- | --- | --- | --- |
| Power KW | Fuel Supply L | Outlet pressure MPa | Outlet Viscosity cst | Outline dimension L*W*H |
| 4000~6000 | 1080~1620 | 0.6~1.0 | 9~14 | 2800*1500*1800 |
Basic structure
Fuel supply device, including fuel supply system, heating system, fuel purification system, viscosity / temperature control system and electrical components. Oil pump, booster pump fuel supply system part configuration; usually one box two sets, according to different oil products, diesel engine combustion can choose emergency diesel oil pump, low-sulfur oil pump and so on. The heating system is selected and configured according to each user's different heat source system and diesel engine power. It is mainly used for heavy oil heating.
At the same time, through the fuel fine filter or in parallel with the automatic backwash filter, the fuel viscosity controller adjusts the heat flow to control the heavy oil viscosity by controlling the electric control valve. the system is composed of different types of valves, instruments and electronic control systems, such as 3-way on-off valve, filter, pressure regulating valve, Flowmeter, mixed oil barrel, temperature control valve, relief valve and so on.
Working Principle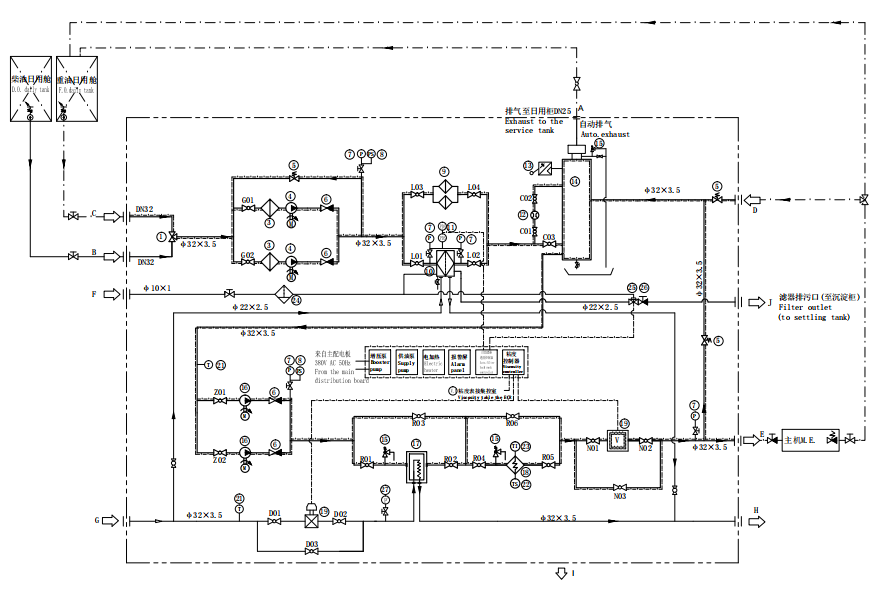 Diesel or heavy oil respectively from the service tank is entered into the oil supply unit, the 3-way switch valve, through the coarse filter before to supply pump, two as spare for oil pump; For oil pump exported equipped with a pressure regulating valve can be adjusted for the pump working pressure and outlet is equipped with pressure controller, pressure gauge to check the oil pump working condition.
Fuel after fine filter to filter the flow meter to mix oil drum, unit filter is installed in parallel of manual and automatic filter, import and export have their respective valve, normal use automatic filter, by-pass filter used for backup. ) Mixing barrel with liquid level controller is used to detect mix oil drum level, low level alarm signal to the control box. System of diesel engine oil, hot oil) into the mixing barrel, mixes with cold oil for oil pump input, produce oil and gas, by mixing barrel at the top of the automatic exhaust to crude oil service tank, and is equipped with emergency hand exhaust to the bottom of the oil supply unit.
After the fuel mixture degassing in the mixing barrel into the booster pump, two as spare booster pump; Outlet is equipped with pressure controller, pressure gauge to check the oil pump working condition. After booster pump to the fuel oil heater heating (steam or heat conduction oil heat exchange), heating fuel after a visco meter to measure viscosity, viscosity and viscosity controller feedback signal detection. By electric valve control of heat flow of feed, best viscosity control fuel into the diesel engine fuel injection pump, extra fuel system at the time of the return pipe and oil return back pressure regulating valve back to unit mix oil drum, mixed with oil in the cold mixing barrel and fuel supply pump cycles.
System equipped with pressure gauge and relief valve at the exit, display fuel outlet pressure and adjust the fuel pressure into the machine. But above all fuel oil supply unit set oil supply, purification, cyclic heating and complex viscosity/temperature control function.
IACS Certificate Options: BV, CCS.

Related products for "1620L Oil Supply System"
Contact with us now