MARINE & OFFSHORE EQUIPMENT
INDUSTRY EQUIPMENT
STOCK LIST
15 persons Sewage Treatment Unit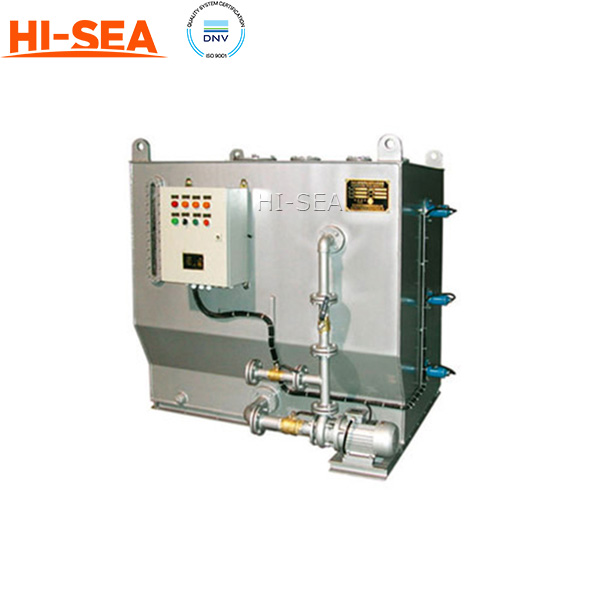 15 persons Sewage Treatment Unit
1. 15 persons Sewage Treatment Unit process principle:
The device adopts activated sludge, contact oxidizing and principle of biologic membrane to digest the organic pollutant, which can treat sewage effectively and meet the IMO new effluent standard or other stricter requirements. The treatment procedures of the plants are shown as following:

2. 15 persons Sewage Treatment Unit Advantages:
1). Adopting horizontal circular design, ellipse closures on both ends, pressure resistance and compact structure.
2). The device is adopted auto-control, and compliance with the requirement of 24-hours unattended cabin.
3). Adopting the 'MBR' technology, allow devices to narrow the size, and solve the conflict of small space of cabin, but big volume of device.
4). The intermittent aeration in bio-membrane tank and hollow fiber membrane tank, form the process of 'aerobic - anoxic', and resolve the problem of 'nitrogen and phosphorus removal'.
5). The device is adopting the principle of air-lifting to transfer the sludge from sediment tank and membrane tank to aeration tank, mealtimes the pump stops and air never stopped, so as the scale on the membrane surface comes down. Due to back flushing and clean the membrane online USD technology patent, so the life of membrane can be prolonged at least 8 to 9years.
6). 'On-line' cleaning technology, making the dirt on membrane off automatically, recover membrane flux. It can be solved the problem of opening the cleaning or replacement of membrane difficultly caused by the small space in cabin.
7). The effluent after further treatment can be reached at the requirement of water reuse.
3. 15 persons Sewage Treatment Unit Rules and Effluent Standards:
IMO

MEPC.159(55)

IMO MEPC.227(64)

USCG

Alaska

TSS (mg/l)

35

≤35Qi/Qe

150

30

BOD5 (mg/l)

25

≤25Qi/Qe

NR

30

COD (mg/l)

125

≤125Qi/Qe

NR

NR

coliform (per 100ml)

100

100

200

20

PH

6~8.5

6~8.5

NR

6~9

Residual chlorine (mg/l)

<0.5

<0.5

NR

10

Ammonia Nitrogen (mg/l)

NR

NR

NR

10

Total Nitrogen (mg/l)

NR

≤20Qi/Qe

(or 70% scalage at least)

NR

NR

Total Phosphorus (mg/l)

NR

≤1.0Qi/Qe

(or 80% scalage at least)

NR

NR
4. Class Certificate Supply: CCS
Related products for "15 persons Sewage Treatment Unit"
Contact with us now