MARINE & OFFSHORE EQUIPMENT
INDUSTRY EQUIPMENT
STOCK LIST
15 m³ Marine Fresh Water Generator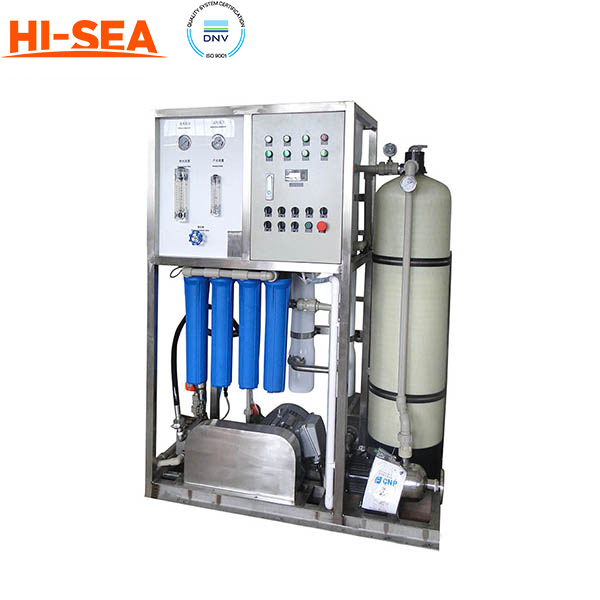 15 m³ Marine Fresh Water Generator
Brief Introduction
ZC-FSHB series seawater desalination equipment adopts the world most advanced technology which is the "Reverse Osmosis Membrane isolation technology" and it is the most advanced technology widely recognized in the world today. Our unit is efficiently practical and converts seawater into ultra clean clear drinking water free from odors and bacteria borne disease and etc. The product water had meets the national drinking water quality standard (GB5749-2006).
Marine seawater desalination equipment is specially designed according to the particularity of ship application. It has the advantages of small size, light weight, low footprint, convenient installation and strong adaptability. It can be installed in narrow and crowded cabins, decks, crew cabins, aisles and other spaces. The equipment is easy to operate and maintain. As long as there is seawater and electricity, fresh water can be provided immediately after starting. The equipment has high desalination rate, safe and reliable, avoids frequent cleaning and no environmental pollution. The frame is made of stainless steel, which is rust-proof and corrosion-resistant. The equipment has the advantages of compact structure, reliable performance, simple operation and maintenance, and can produce fresh water without mineralization and can be drunk directly. It is an ideal equipment to meet the needs of people living in seawater areas.
Drawing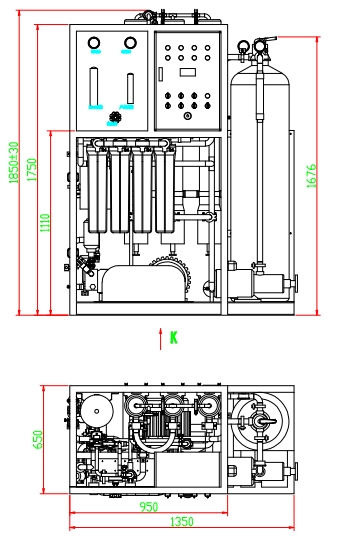 Technical Specifications
Model
ZC-FSHB-15
water production(m³/d)
15
raw water TDS
≤38000PPM
Inlet water temperature(℃)
5~35℃
PH value of raw water
3~10
Boosting inlet pressure
0.1~1Kg/c㎡(Positive)
Salt content of product water
≤500PPM
Desalination rate
≥98.5%
Product water pressure
≤0.3MPa
Recovery rate
≈22%
Power supply
380V AC/50Hz/3φ
Power consumption
6.6KW
control cabinet
control voltage: 220V AC
IP: IP55
Motor
IP: IP55
Insulation class"F"
Outline Dimension L*W*H(mm)
1350*650*1750
Dry weight(KG)
650KG
Wet weight(KG)
800KG
Process Flow


System component
1.Pre-filtration system: Feed pump, Multi medium filter, Precision filter
Multi-medium filter system medium filter adopts multi-layer size medium, can effectively remove the water suspended particles and fine particulate matter.
2.Reverse osmosis membrane system: High pressure pump, RO Membrane, Pressure Control Valve, Rinse Tank
Mainly to further process the pretreated raw water into fresh water.
Operation
First: Begin by switching to "Filter" and park position to "Product". By switching to "System" and park position to "Product". The Feed pump starts up and the High pressure pump A begin to start up once the inlet pressure exceed 0.05Mpa. Operate at no pressure for about 10 minutes.
Secondly: Slowly turn the pressure regulating valve clockwise to boost the pressure, and it will take about 10 minutes to increase the operating pressure to about normal operating pressure 5.0MPa.
The product water filling up the rinse tank.when rinse tank by fill later, circumgyrate the valve 6 th ,let the product water enter the product tank.
It is very important to conduct close monitoring on the piezometer of the RO Membrane System at every moment to prevent any pressure fluctuation.
Stop
First you must counter-clockwise laggardly turn Pressure Regulate that is depress pressure to not pressure at 10 minute about, than not pressure operate 10 minute, Switching the "System" to the middle, stop High Pressure Pump and Switching the "Filter" to the middle, stop Feed Pump.
Rinse
First you open Valve 3rd, 4th; close Valve 1st,2nd,5th, ,and by switching to "System" and park position to "Rinse", startup High Pressure Pump, the seawater in the Reverse Saturation System will be replaced by product water in the Rinse Tank. That may protect Membrane Module and High Pressure Pump. Observes Water Line Mark, don't let water line under lowest Water Line Marker (red marker). Then stop the device.
Related products for "15 m³ Marine Fresh Water Generator"
Contact with us now