MARINE & OFFSHORE EQUIPMENT
INDUSTRY EQUIPMENT
STOCK LIST
10 m³ RO Seawater Desalination System
10 m³ RO Seawater Desalination System
Introduction
As the content of salt in the seawater is too high, that can not be used directly, there are mainly two methods to desalinate seawater, distillation and reverse osmosis. Distillation is mainly used for super‐huge type seawater desalination and heat energy rich area, energy consumption is very high. Reverse Osmosis is very widely applicable, low energy consumption and high desalination rate, so it's widely used.
It use the international best quality of seawater RO membrane. The membrane's salt removing rate is very high, with stable performance, safe and reliable. The HP pump we used is the international brand which is specialized in seawater desalination, with high and low pressure protection device, ensure the safety and reliable of the equipment. The treated water quality meets the national life drinking water quality standards (GB5749‐85), do not add any chemicals, can be used for direct drinking, fresh and sweet.
Main Configuration
YB-SWRO-10000L

Flow rate

10000L/day

Recovery rate

30%

Applicable power

AC220V, 50HZ

Rated power

4KW

Feedwater TDS

<38000ppm

Freshwater TDS

<600ppm

Working pressure

<6MPa

Operating temperature

10-45℃

Feedwater residual chlorine

<0.1ppm

Feedwater SDI

<5

Feedwater turbidity

<1NTU

Feedwater PH value

3-10

Equipment specification

90*86*140cm

Equipment net weight

210-280Kg

Packing specification(wooden box)

95*90*1600cm

Packing gross weight

260-350Kg
Advantages & Characteristics
(1)Auto operating by pressing one key, easy and convenient to operate.
(2)Touch screen + PLC automatic control, more integrated and convenient, real‐time running process, more vivid and visualized.
(3)High quality quartz sand filter, can remove the large impurities, alga and so on, and can be manual cleaning independently.
(4)All of the high pressure fittings adopt SS316 material, safe and corrosion resistant. Low pressure fittings adopt high quality UVPC material.
(5) The machine sets up high and low voltage protection to prevent the machine from break downing.
(6) Device fault alarm and indication is convenient for identifying the causes and maintenance quickly.
(7) Kinds of flow and pressure testing instruments, monitoring the device operating state at any time
(8) Online conductivity meter, monitoring the output water quality at any time.
Applied range of YB‐SWRO series portable seawater desalination machine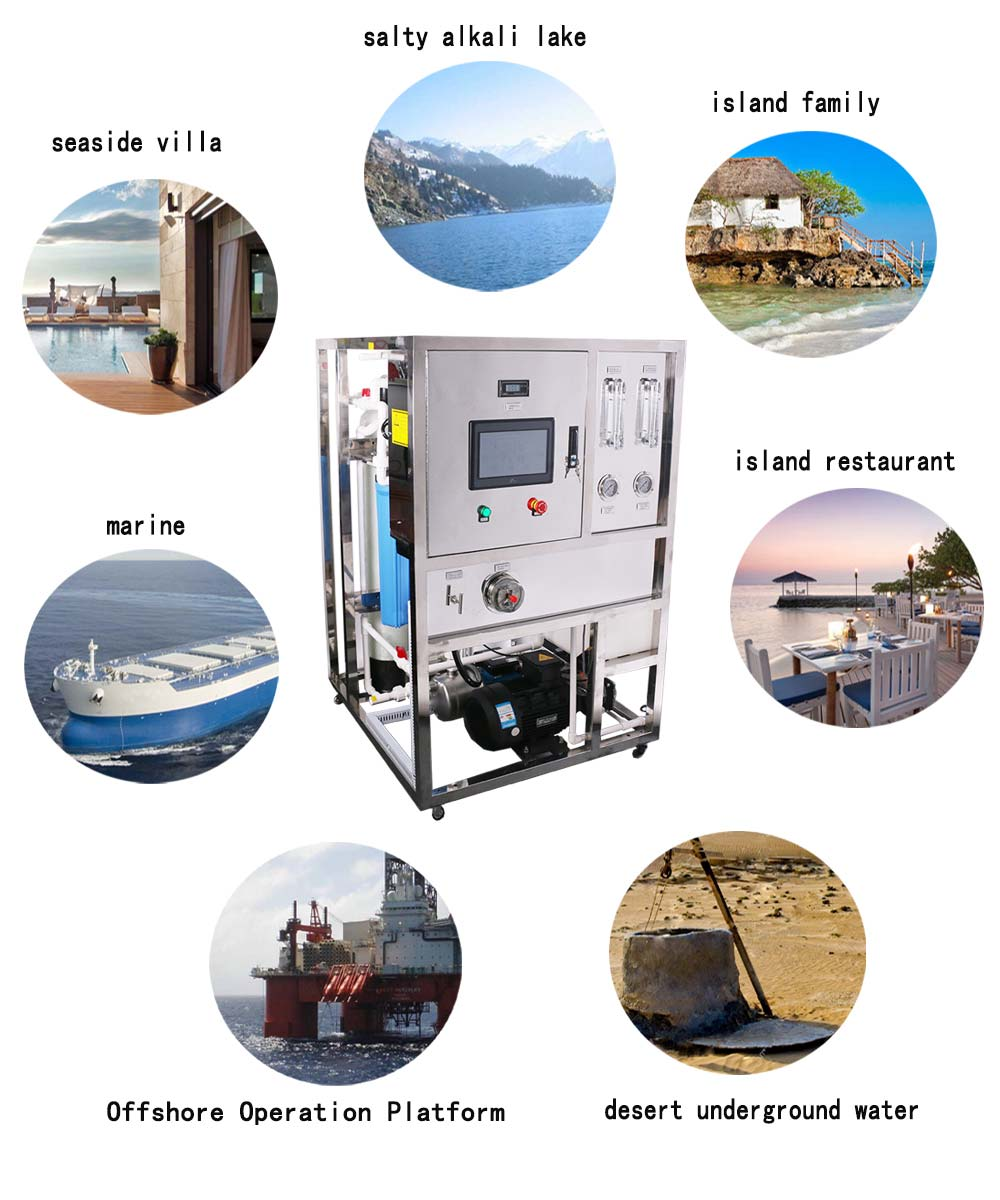 IACS Certificate Options: BV, CCS, NK, DNV, GL, IRS, ABS, LR, RMRS, RINA

Related products for "10 m³ RO Seawater Desalination System"
Contact with us now