MARINE & OFFSHORE EQUIPMENT
INDUSTRY EQUIPMENT
STOCK LIST
Marine 0-60MPA pressure gauge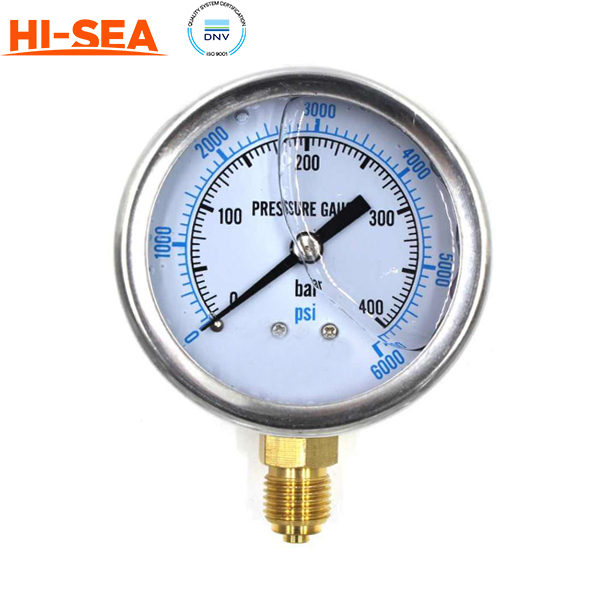 Marine 0-60MPA pressure gauge
Introduction:
A marine 0-60MPA pressure gauge is a device used to measure pressure in marine applications. The "0-60MPA" specification indicates the pressure range that the gauge can measure, from 0 to 60 megapascals (MPa).
In marine environments, pressure gauges are commonly used to monitor the pressure in various systems such as hydraulic systems, pneumatic systems, and compressed air systems. They are important for maintaining the safety and functionality of these systems.
The pressure gauge typically consists of a dial with a pointer indicating the pressure reading and a scale calibrated in units of pressure (in this case, megapascals). The gauge is designed to withstand the harsh conditions found in marine environments, including resistance to corrosion, water ingress, and vibration.
When using a marine pressure gauge, it is important to ensure it is properly installed and connected to the system being measured. Regular calibration and maintenance are also necessary to ensure accurate readings and reliable performance.
It's worth noting that the metric unit for pressure in the International System of Units (SI) is the pascal (Pa). One megapascal (MPa) is equal to 1,000,000 pascals.
N: Anti-vibration type
Y- Pressure Gauge
YZ- Vacuum Pressure Gauge
Z- Vaccun Gauge
YX- Pressure Gauge with electric connection
YA- Ammonia Gauge
YC- Marine Pressure Gauge
Technical Specification:
mm

Measure Range

Accuracy

Connection

Material type

Vacuum Pressure Gauge

Pressure
Gauge

Connection

Body

Φ60

−0.1~0
-0.1~0.06
-0.1~0.15
-0.1~0.3
-0.1~0.5
-0.1~0.9
-0.1~1.5
-0.1~2.4

0~0.1
0~0.16
0~0.25
0~0.4
0~0.6
0~1
0~1.6
0~2.5

2.5

M10×1
M14×1.5
G3/8"
M20×1.5
G½
NPT½
G3/8"

Ocr18Ni9(304)

Ocr17Ni12M02
(316)

Ocr17Ni14M02
(316L)

Ocr18Ni9
(304)

Φ75

Φ100

1.6
(1.0)

Φ150
Environmental Temperature:
-25~70℃ (Body is liquid filled)
-40~70℃ (Body is not liquid filled)
Temperature influence:
less then 0.4%/10℃ (environmental temperature deviation20±5)
Ante-vibration in working:
V.H.4 (Body Body is liquid filled)
V.H.3 (Body is not liquid filled)
Protection: IP64
D

d。

d1

H1

H2

L

L1

L2

Connection Screw Thread

60

76

4.5

≤60

16

36

66

M14×1.5Z¼ (NPT)

100

116

4.8

≤100

≤35

20

50

98

M20×1.5G½ Z½(NPT)

150

165

5.8

≤125

≤60
Thermometer drawing: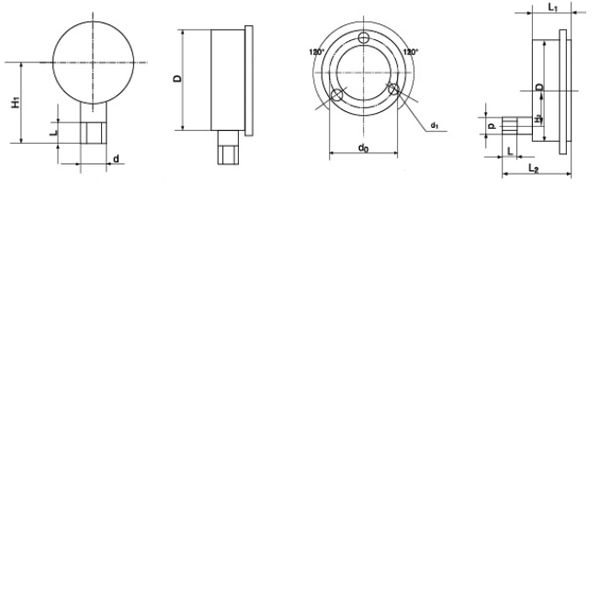 Related products for "Marine 0-60MPA pressure gauge"
Contact with us now