MARINE & OFFSHORE EQUIPMENT
INDUSTRY EQUIPMENT
STOCK LIST
CBZ-100A Marine Fan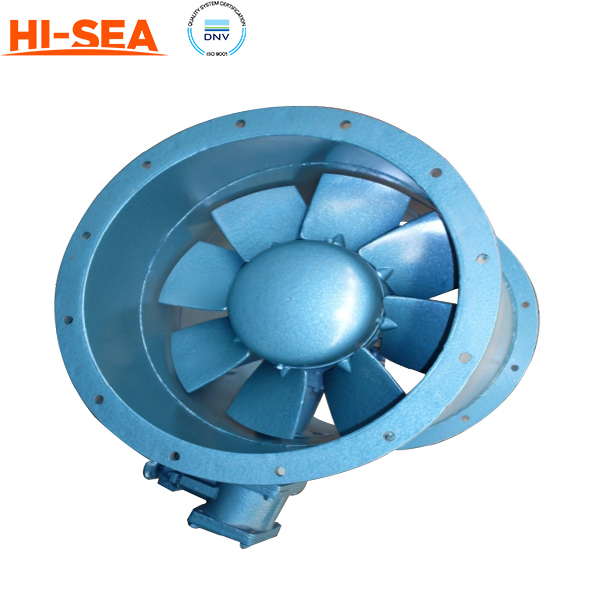 CBZ-100A Marine Fan
Introduction:
The CBZ-100A Marine Fan is a type of ventilation fan specifically designed for use in marine environments. It is commonly used on ships, boats, and other watercraft to provide ventilation and air circulation in various areas such as cabins, engine rooms, and storage spaces.
The CBZ-100A Marine Fan is constructed with a high-quality aluminum alloy casing, which is resistant to corrosion and can withstand harsh marine environments. It has a compact and lightweight design, making it easy to install and operate. The fan also features a high-efficiency motor that provides reliable and consistent performance even in challenging conditions.
This type of marine fan is equipped with a built-in damper that prevents the backflow of air, ensuring a continuous supply of fresh air. It also has an adjustable blade pitch, which allows for precise control of airflow direction and volume.
The CBZ-100A Marine Fan is typically powered by a 220V or 380V AC power supply and can operate at speeds of up to 2,950 RPM. It has a maximum air volume capacity of 500 cubic meters per hour, making it suitable for use in small to medium-sized marine vessels.
Overall, the CBZ-100A Marine Fan is a reliable and efficient ventilation solution for marine applications, providing essential air circulation and ventilation to ensure a comfortable and safe onboard environment.
Feature:
1. High Efficiency: CBZ-100A Marine Fan is designed to provide high efficiency and low noise performance, which ensures that it delivers optimal ventilation with minimum energy consumption.
2. Corrosion-resistant: The fan is made of high-quality aluminum alloy material with an anti-corrosive coating. This makes it resistant to corrosion and other harsh marine conditions.
3. Robust Construction: The CBZ-100A Marine Fan has a robust construction, making it durable and able to withstand harsh marine environments. It can operate in a wide range of temperatures, from -25°C to +55°C.
4. Easy to Install and Maintain: The fan is designed for easy installation and maintenance. It comes with mounting brackets and a user manual for easy installation. It also has easy-to-remove grilles for cleaning and maintenance.
5. Safety Features: CBZ-100A Marine Fan comes with various safety features, including thermal overload protection, which protects the motor from overheating and prevents damage to the fan.
6. Wide Range of Applications: The fan can be used in various marine applications, including ventilation for ships, offshore platforms, and other marine facilities.
Overall, the CBZ-100A Marine Fan is a reliable and efficient option for marine ventilation needs.
Main Property Parameters and Dimensions:
Type

Flow rate m³/h

Total pressure

Pa

Static pressure

Pa

Speed r/min

Motor

Dimensions

Weight

≈㎏

Freq

Hz

Power

Kw

Type

D

D₁

D₂

D₃

H₁

H₂

H₃

L

T

n*d

Ⅰ

Ⅱ

CBZ-100A

42000

685

545

1460

50

15

YB160L-4H

Ø1000

Ø1070

Ø1110

Ø1800

480

805

1180

900

12

20*19

365

345

48000

625

450

54000

585

350

50000

985

780

1750

60

30

YB160L-4H

1235

470

450

57000

900

645

60000

840

500
Outline Drawing: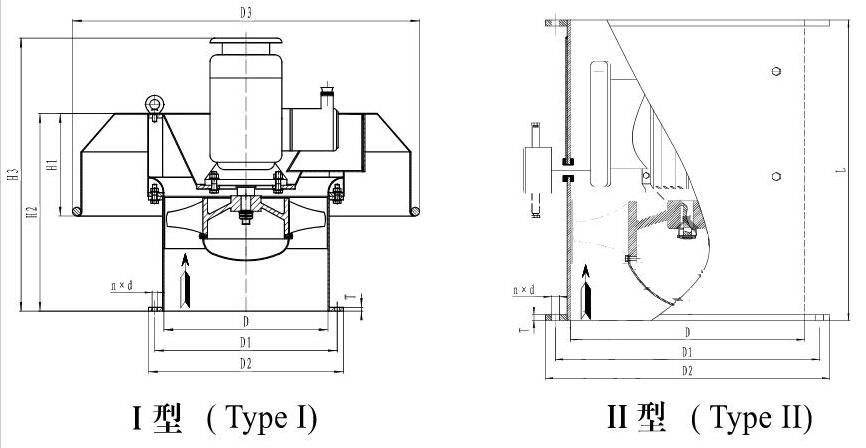 Product Showing: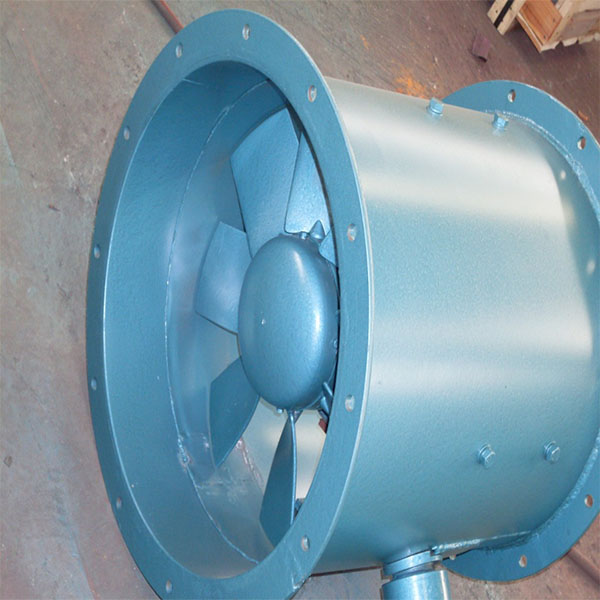 Related products for "CBZ-100A Marine Fan"
Contact with us now