MARINE & OFFSHORE EQUIPMENT
INDUSTRY EQUIPMENT
STOCK LIST
WNY type Thermometer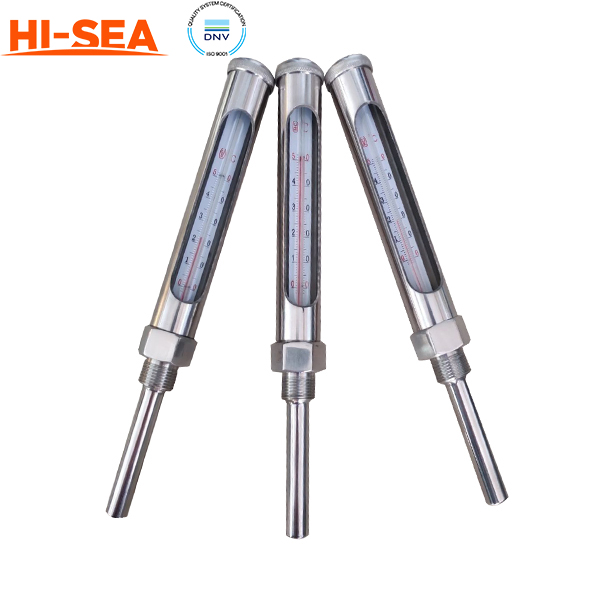 Introduction:
The WNY type thermometer is a specific type of thermometer that is commonly used in industrial applications for measuring temperature. It is designed to provide accurate temperature readings in harsh environments, including high-pressure and high-temperature conditions.
Here's a brief introduction to the WNY type thermometer:
1.Design: The WNY type thermometer typically consists of a stainless steel or other durable metal housing that protects the internal components. It is designed to withstand challenging conditions, making it suitable for use in industries such as oil and gas, chemical, and power generation.
2.Measurement Principle: The WNY thermometer operates on the principle of expansion and contraction of materials with temperature changes. It utilizes a temperature-sensing element, often a bimetallic strip or a gas-filled bulb, that undergoes mechanical deformation in response to temperature variations.
3.Temperature Range: WNY type thermometers are capable of measuring a wide range of temperatures, from very low to extremely high. The specific temperature range depends on the design and materials used in the thermometer.
4.Mounting Options: WNY thermometers offer various mounting options to suit different applications. They can be installed directly into a process through a threaded connection or with the help of a thermowell, which is a protective sleeve that isolates the thermometer from the process fluid while allowing accurate temperature measurement.
5.Display and Readability: WNY thermometers usually feature a clear and easy-to-read dial display. The dial is calibrated in temperature units, such as Celsius or Fahrenheit, allowing users to quickly interpret the temperature reading.
6.Accuracy and Calibration: These thermometers are designed to provide accurate temperature measurements within a specified tolerance. Calibration is an essential aspect to maintain accuracy, and periodic calibration checks or adjustments may be necessary.
7.Application Areas: WNY thermometers find applications in a wide range of industries, including petrochemical, refining, power generation, pharmaceuticals, food processing, and HVAC (heating, ventilation, and air conditioning) systems.
8.Safety Considerations: When using WNY thermometers in high-pressure or hazardous environments, it is important to ensure that they are properly installed and suitable for the specific application to ensure worker safety and accurate temperature readings.
It's worth noting that the specific design and features of WNY thermometers may vary among manufacturers. Therefore, it is always recommended to consult the product documentation or reach out to the manufacturer for detailed information regarding a particular model or application.
Technical Specification:
Length Dimensions

Measuring
Range

Scale

Temp.Sensing Liquid

Connection

Notes

Upward Length

Downward Length

110

150

200

240

261





25
40
60
80
100
200
300
400
500
800
1000

−50−+50
0−50

1

Organic
Liquid



Mercury

M20×1.5

M27×2

G1/2"

G3/4"

G3/8"

WXG is metallic
protector thermometer with electric contach


When other condition are required please consult as.




0−100
0−200

2

0−300
0−400

5

0−500
0−600

10
Thermometer drawing: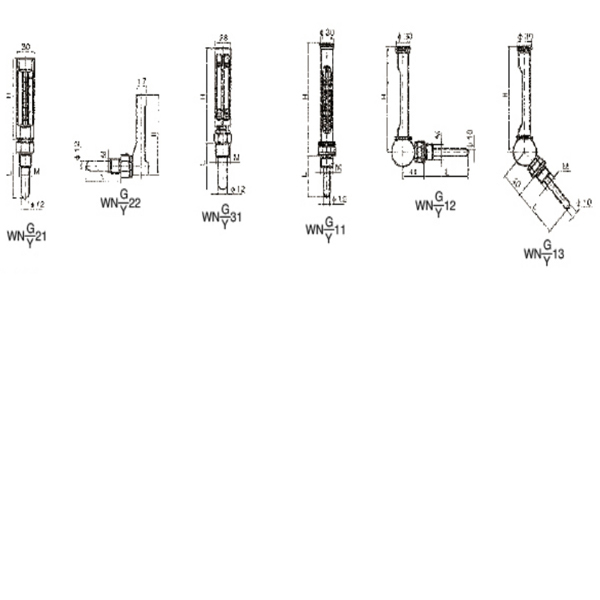 Related products for "WNY type Thermometer"
Contact with us now