MARINE & OFFSHORE EQUIPMENT
INDUSTRY EQUIPMENT
STOCK LIST
Pressure type Thermometer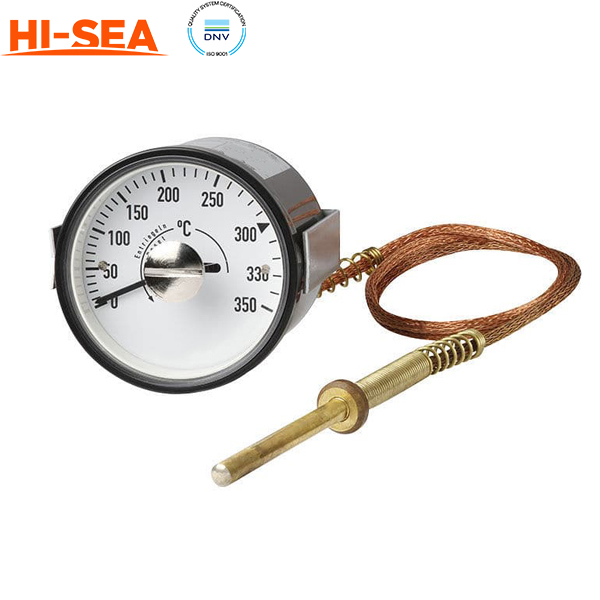 Introduction:
A pressure type thermometer, also known as a pressure-based thermometer, is a device used to measure temperature by utilizing the principle that temperature affects the pressure of a gas. This type of thermometer operates on the basis of Charles's Law, which states that the volume of a gas is directly proportional to its absolute temperature when pressure is held constant.
The basic design of a pressure type thermometer consists of a gas-filled bulb or chamber connected to a capillary tube. The gas used is typically a highly purified and inert substance such as nitrogen or helium. As the temperature changes, the gas inside the bulb expands or contracts, resulting in a change in pressure. This pressure change is transmitted through the capillary tube to a pressure gauge or transducer, which converts it into a temperature reading.
The pressure gauge or transducer may be mechanical, such as a Bourdon tube or a diaphragm, or it can be electronic, such as a pressure sensor or a strain gauge. In either case, the gauge or transducer measures the pressure and provides a corresponding temperature reading.
Pressure type thermometers offer several advantages, including high accuracy, good stability, and a wide temperature range. They are commonly used in industrial applications where precise temperature measurement is required, such as in chemical processing, manufacturing, and laboratory settings. However, they are generally not as portable or quick to respond as other types of thermometers, such as digital thermometers or thermocouples.
It's worth noting that there are different variations of pressure type thermometers, including gas-filled systems, vapor-filled systems, and liquid-filled systems. Each variation operates on the principle of pressure-temperature relationship but may use different types of gases or liquids as the sensing medium.
Dimensions Soecification:
| | | | |
| --- | --- | --- | --- |
| Dial diameter | D1 | A | D |
| Φ100 | Φ117 | Φ120 | Φ130 |
| Φ150 | Φ156 | Φ160 | Φ172 |
Technical Parameters
Model

Measuring range

accuracy

Bulb Dimension

Mounting Thread

Dial diameter

Case Material

WTZ-280

−20~60 0~100
0~120 60~160

1.5

Φ15×150
Φ15×200

M27×G¾

Φ100
Φ150

Bakelite

Stainless Steel

WTQ-280

−40~60 0~200
−60~40 0~300

2.5

Φ22×300

M33×2G1"

Φ150

WTZ-288

−20~60 0~100
0~120 60~160

1.5

Φ15×150
Φ15×200

M27×G¾


Bakelite

WTQ-288

−20~60 02100
−60~40 0~300

2.5

Φ22×300

M33×2G1"
Thermometer drawing: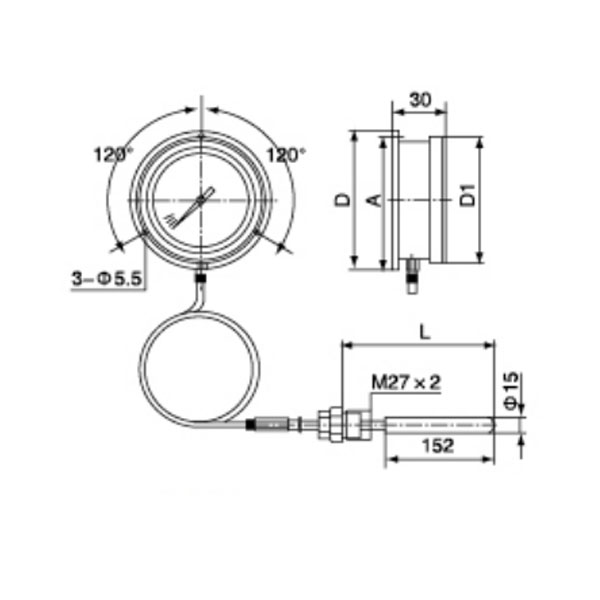 Related products for "Pressure type Thermometer"
Contact with us now