MARINE & OFFSHORE EQUIPMENT
INDUSTRY EQUIPMENT
STOCK LIST
Marine Metallic Protector Thermometer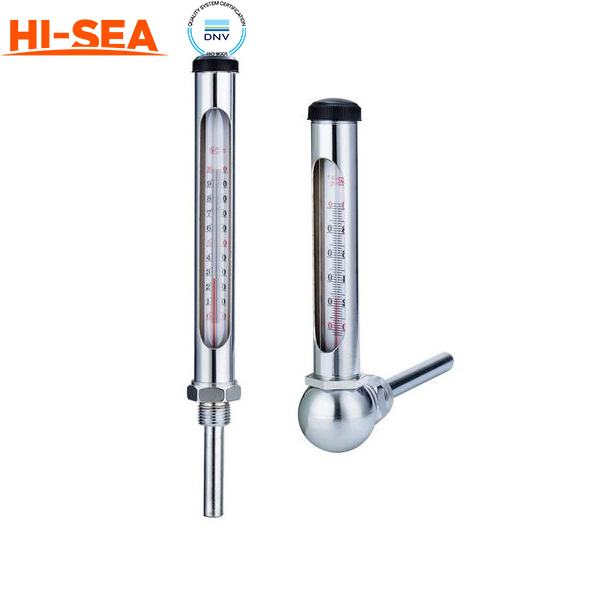 Introduction:
The Marine Metallic Protector Thermometer is an advanced temperature measuring device specifically designed for marine environments. It is engineered to withstand the harsh conditions encountered at sea, making it an ideal tool for marine professionals, researchers, and enthusiasts.
Key Features:
1.Marine-Grade Construction: The thermometer is built with durable materials that can withstand exposure to saltwater, humidity, and extreme temperatures. It features a corrosion-resistant metallic casing that ensures long-lasting performance in marine environments.
2.Accurate Temperature Measurement: The Marine Metallic Protector Thermometer utilizes high-precision sensors to provide accurate temperature readings. It can measure both air and water temperatures, enabling users to monitor and track temperature variations in real-time.
3.Easy-to-Read Display: The thermometer is equipped with a large, backlit display that offers clear visibility even in low-light conditions. The screen provides instant temperature readings in either Celsius or Fahrenheit, depending on user preference.
4.Waterproof Design: To ensure reliability in marine settings, the thermometer is designed to be fully waterproof. It can be submerged in water without compromising its functionality, making it suitable for measuring water temperatures while diving or boating.
5.User-Friendly Interface: The thermometer features a user-friendly interface with intuitive controls, allowing for easy operation and temperature adjustments. It may also include additional functions like memory recall, minimum/maximum temperature recording, and customizable alarms.
6.Versatility: Apart from its marine applications, the Marine Metallic Protector Thermometer can be utilized in various outdoor activities such as fishing, swimming, and water sports. Its rugged design and accurate temperature measurement make it a valuable tool for any water-related pursuit.
7.Portability: The thermometer is designed to be compact and lightweight, making it easy to carry on marine expeditions or store in a boat's equipment compartment. Some models may come with a protective carrying case for added convenience and protection.
When using the Marine Metallic Protector Thermometer, it's important to follow the manufacturer's instructions regarding proper maintenance and care. Regular cleaning and rinsing with freshwater after use in saltwater environments are recommended to maximize the lifespan of the thermometer.
Overall, the Marine Metallic Protector Thermometer is a reliable and durable temperature measuring device designed to withstand the challenges of marine environments. Its accuracy, robust construction, and versatility make it an essential tool for professionals and enthusiasts who require precise temperature monitoring in marine settings.
Technical Specification:
Length Dimensions

Measuring
Range

Scale

Temp.Sensing Liquid

Connection

Notes

Upward Length

Downward Length

110

150

200

240

261





25
40
60
80
100
200
300
400
500
800
1000

−50−+50
0−50

1

Organic
Liquid



Mercury

M20×1.5

M27×2

G1/2"

G3/4"

G3/8"

WXG is metallic
protector thermometer with electric contach


When other condition are required please consult as.




0−100
0−200

2

0−300
0−400

5

0−500
0−600

10
Related products for "Marine Metallic Protector Thermometer "
Contact with us now