MARINE & OFFSHORE EQUIPMENT
INDUSTRY EQUIPMENT
STOCK LIST
Marine Shaft System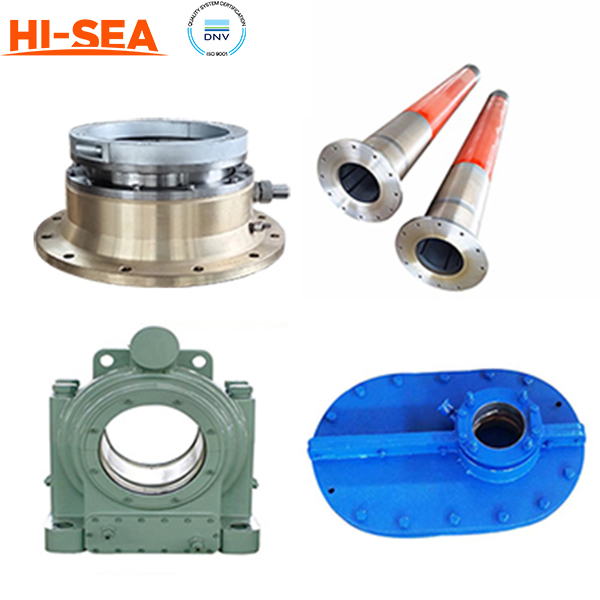 Marine Shaft System
Application
Marine shaft system is one of the most important propulsion equipment of a vessel. As a professional supplier of rudder system, we can design and manufacture the marine rudder system or rudder system components according to customer's drawings or requirements. A marine shaft system is an essential component of a vessel's propulsion system. It includes a shaft, which connects the ship's engine to its propeller, and other necessary equipment such as bearings, seals, and couplings. The marine shaft system is responsible for transmitting the rotational power generated by the ship's engine to the propeller, which in turn generates the thrust needed to propel the vessel forward.

From the design stage to dispatch, our internal quality assurance systems fully comply with marine class standard. In addition, third- party surveyors will check the process of design and fabricating to ensure the marine winch complies with all relevant specifications. And different Classification Society Certificate is also available, such as CCS, BV, RINA, etc.
For more marine rudder system informations, please click here.
Main Product Including
1. Stern shaft, stern tube, counter shaft, coupling, stern shaft nut
2. Oil or water lubrication sealing device series, stern shaft sealing apparatus
3. Stern shaft bearing (white metal bearing, rubber bearing, polymer bearing)
4. Intermediate bearing (gliding type, sliding type, rolling type, single oil wedge type, multi oil wedge type)
5. Propulsion shaft gliding thrust bearing
6. Bulkhead gearing, bulkhead sealing apparatus, shafting mechanical brake
7. Shafting grounding device, stern shaft lubrication oil tank
......
Marine Shaft System Classification
Marine Shaft System Classification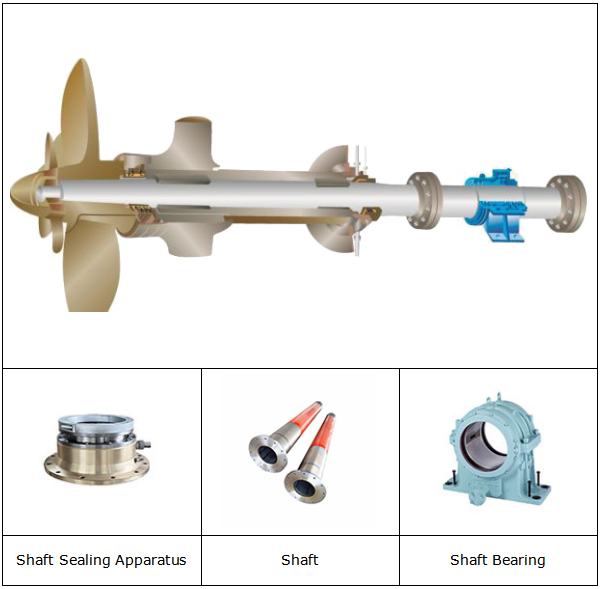 Maine Shaft System Components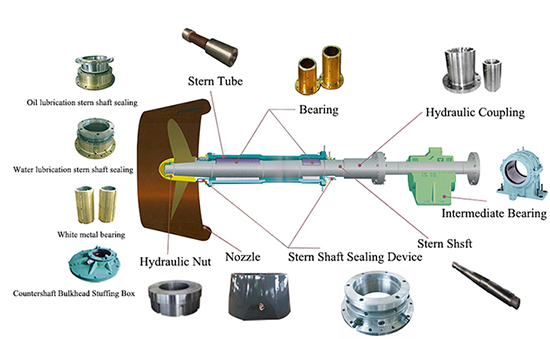 Configuration options

Name

Features

Stern tube

v Integral welding type and separate type

v Made of cast steel, forged steel and mild steel

Bearing

v Oil lubrication (white metal)

v Water lubrication (rubber or high polymer)

Hydraulic coupling

v Flange type, sleeve type

v With intermediate sleeve type, no intermediate sleeve type

Intermediate bearing

v Sliding and rolling type

v Single oil wedge type, multi oil wedge type

v Multi oil wedge type includes with or no upper bearing

Stern shaft

v Key connection type

v Hydraulic connection type

v Flange connection type

v Carbon steel, alloy steel, stainless steel

Stern shaft sealing device

v Water lubrication type, oil lubrication type

v With 2, 3, 4 seal rings

v Optional attachment for AFT sealing device

v Sand ring

v Retaining ring

v Anti-fishing net device

Nozzle

v Fixed type, rotatable type, full rotation type

v Made of stainless steel and steel

Hydraulic nut

v Easy for install and lock propeller
Due to the fierce market competition, the phenomenon of low quality of other winch suppliers is frequent. What is the difference between us and other low-quality suppliers?

The specific differences are as follows:
Part name

Other low quality suppliers

Result

Our factory

Consequence

Marine shaft sealing apparatus

Generally, asbestos packing is used for sealing

Short service life, easy to damage.

Usually water sealed;

stainless steel

Long service life, low power loss and no pollution. With the built-in multi-channel sealing ring, the sealing effect is good.

Mechanical face seals are generally used

Expensive, cumbersome installation, and high material requirements

Usually oil seal;

stainless steel

Large oil film bearing capacity, good oil lubrication performance, built-in multi-channel sealing ring, good sealing effect. Corrosion-resistant, low wear.

Shaft

Poor production process

easy to wear

The good production process, support for finishing

Good quality, slow wear, cost-effective.

Marine Shaft Bearing

Not strictly in accordance with the production process and product standards

Fast wear, high friction, easy to corrode.

Strictly follow the production process and product standards.

Good stability, slow wear, low friction, corrosion resistance, high temperature resistance.
Drawing of Marine Shaft System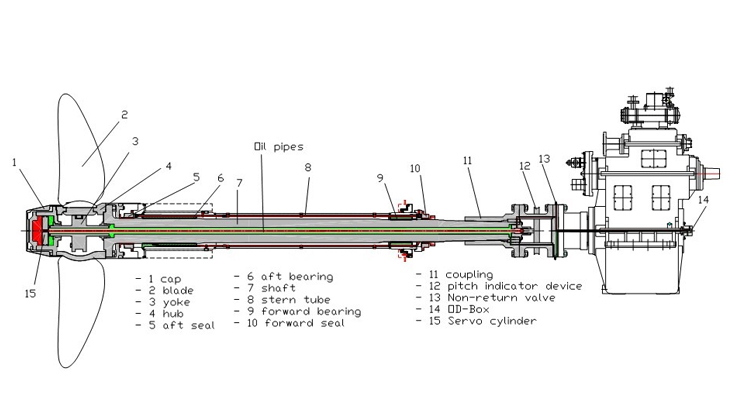 Image of Marine Shaft System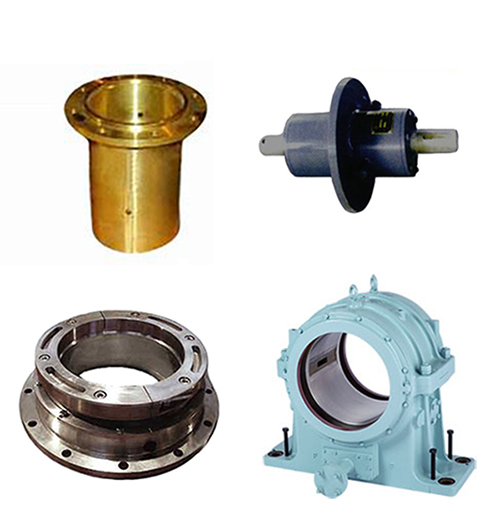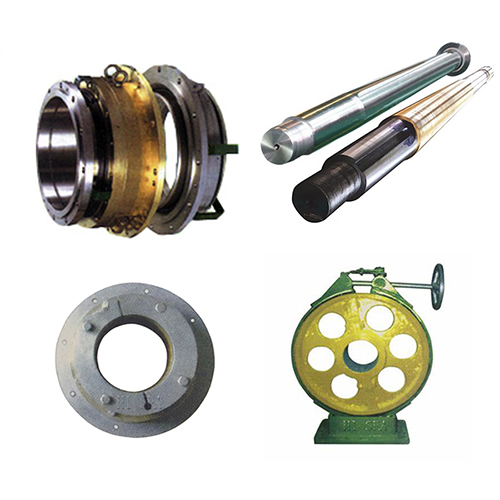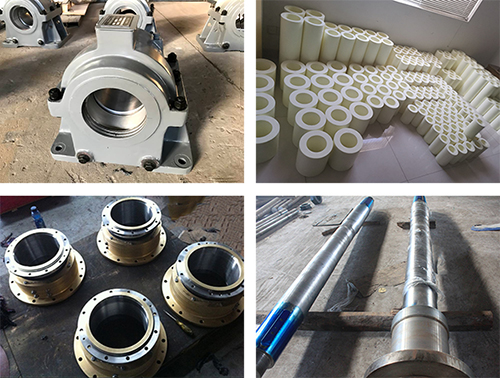 The shafting is an important part of the ship's propulsion system, and the bearing is its core part. The failure of the stern bearing will affect the operation of the entire ship, and will also increase the safety hazard of the ship.
Maintenance suggestions:
1. Inspection and measurement of shaft alignment state; measurement of runout of intermediate shaft; wear of the stern bearing subsidence measurement; and tail shaft bolt pull-out force measurement.
2. Check the fit of the propeller and the tail shaft, the assembly mark of the propeller and the shaft nut, which can be disassembled shaft fit inspection and assembly marks; bearing surface quality and wear of each gear of the shaft system
condition, and check the radial clearance of each bearing.
3. Surface quality inspection of the stern shaft, intermediate shaft and thrust shaft journal and the big end of the stern shaft cone partial inspection.
4. Check the wear of the sealing device.
5. Check the working conditions of the piping system and accessories related to the shaft system.
Related products for "Marine Shaft System"
Contact with us now