MARINE & OFFSHORE EQUIPMENT
INDUSTRY EQUIPMENT
STOCK LIST
CB*3333 Stern Shaft Lubrication Oil Tank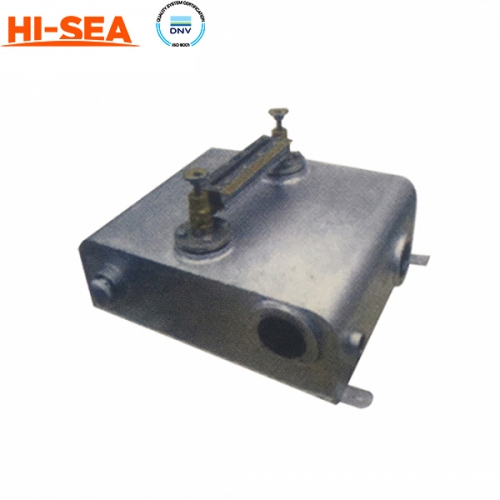 CB*3333 Stern Shaft Lubrication Oil Tank
Application
This Type of oil tanks have above 30L can be equipped with a low oil alarm devie.The oil tank is used to store oil source. CB*3333 Stern Shaft Lubrication Oil Tank is a type of marine tank used to store lubricating oil for the vessel's propulsion system. This tank is typically located in the engine room and is used to supply oil to the stern tube and associated lubrication system. The lubricating oil is essential for reducing friction and wear between the propeller shaft and the stern tube bearings. The CB*3333 Stern Shaft Lubrication Oil Tank is designed to hold an adequate supply of oil to ensure that the system is properly lubricated and that the bearings are adequately protected.
Advantages and Features
1. Compact structure, high quality;
2. Excellent performance, high security;
3. Working steadily and smoothly;
4. Easy installation, easy maintenance;
5. Corrosion resistance, long lifespan;
6. Reliable service, exquisite appearance;
7. Can be customized according to your requirements.
Remarks
1.This system doesn't need a oil pump.
2.The oil level won't be lower than the deep load.
3.It is applicable to vessels whose sea gauge is no longer deeper than 10m.
3.The lubrication oil brand should be the same as the main unit.
4.We can modify the technical parameters, according to your special requirements.
Technical Parameters

Model

Capacity

A

B

H

H1

d

Applicable stern shaft diameter

Weight(kg)

one shaft with one oiltank

two shafts with one oil tank

15CB*3333

15

245

370

630

360

15

≥70≤120

<70

10

30GB*3333

30

245

520

730

460

15

>120≤170

≥70≤120

15

50CB*3333

50

285

670

730

460

20

>170

18

/
Drawing of Product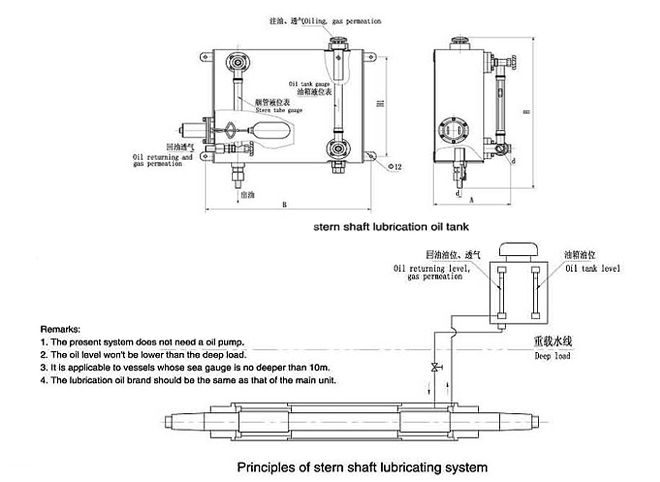 Related products for "CB*3333 Stern Shaft Lubrication Oil Tank"
Contact with us now