CNC Flame Cutting Machine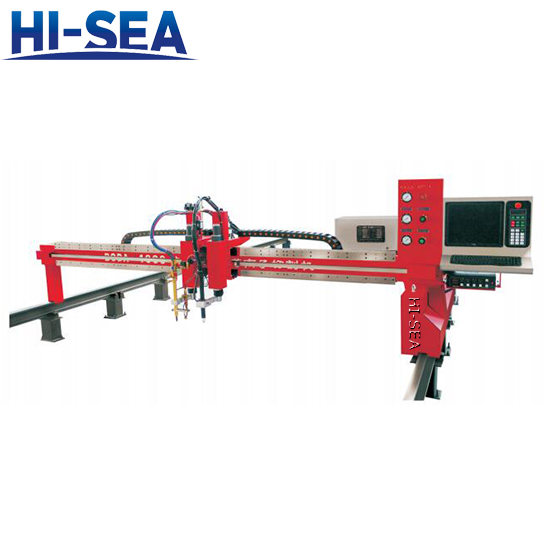 CNC Flame Cutting Machine
1. Application
This equipment includes portal frame, track, CNC system, cutting table etc. Demand side shall be responsible for manufacture, installation and readjustment of the foundation and drag chain slot, etc in accordance with the drawings provided by supply side, in conformity with the requirements of the drawings.The design of equipment and instrument should conform to ISO and IEC. The international measure system (SI) shall be performed.
2. Product Detail
track span: 2500mm~4000mm
effective cutting length: rail length deduct 3000mm
effective cutting width: 1500mm~3000mm
CNC system: CNC or imported system
drive system: AC servo system
traveling speed: ≤6000mm/min
cutting gas: O2/C3H4, O2/C2H2 or natural gas,etc.
cutting speed: 100mm/min~750mm/min
cutting thickness: 6mm~300mm
the traveling speed can be customized to 24000mm/min according to customer need, and the cutting thickness can be achieved 600mm.
3. Device with machine

| | | | | |
| --- | --- | --- | --- | --- |
| S/N | Description | Size | Qty | Remarks |
| 1 | Oxygen windpipe | φ10 | 20m | |
| 2 | Gas-fired windpipe | φ10 | 15m | |
| 3 | Power wire | 2.5mm2×3+16mm2×1 Sheathing wire | 15m | |
| 4 | Earth wire | 25mm2 | 30m | |
| 5 | Plasma wire | 16mm2×2+10mm2×1 | 10m | |
| 6 | Plasma consumable kit | | 1 set | |
| 7 | Flame nozzle | 1-4# | Each 4 pc | |
4. List of Tools with Shipment
| | | | | |
| --- | --- | --- | --- | --- |
| S/N | Description and Size | Quantity | Unit | Remarks |
| 1 | M4 Socket screw wrench | 1 | Piece | |
| 2 | M5 Socket screw wrench | 1 | Piece | |
| 3 | M6 Socket screw wrench | 1 | Piece | |
| 4 | M8Socket screw wrench | 1 | Piece | |
| 5 | M10 Socket screw wrench | 1 | Piece | |
| 6 | M12 Socket screw wrench | 1 | Piece | |
| 7 | M16 Socket screw wrench | 1 | Piece | |
| 8 | 6″ Minus screwdriver | 1 | Piece | |
| 9 | 6″ Cross screwdriver | 1 | Piece | |
| 10 | 12″ Diagonal wrench | 1 | Piece | |
| 11 | 8″ Diagonal wrench | 1 | Piece | |
| 12 | Pass needle | 1 | Pair | |
Contact with us now